Newsletter - Term 4 Week 4
Calendar
Term 4 Week 5
Mon 6 Nov

Whole School Prayer - 9:00am

Kindergarten 2024 - Story Time Session A - 9:15am to 10:15am

Surf Safety Visit - Year 2, Year 4 and Year 6 - 11:40am to 1:40pm

Tue 7 Nov

Kindergarten 2024 - Story Time Session A - 9:15am to 10:15am




Wed 8 Nov

Whole School Prayer - 9:00am - Hosted by Year 6

Kindergarten 2024 - Story Time Session A - 9:15am to 10:15am




Thu 9 Nov

Kindergarten 2024 - Story Time Session A - 9:15am to 10:15am




Year 5 Surf Safety Excursion - Town Beach - 12:00pm to 1:30pm

Aggies Connects - Come Play with Me (Hall) 2:15pm to 3:00pm




Aggies Connects - Come and Borrow With Me (Library) - 3:00 to 3:30pm




Fri 10 Nov

Aggies Connects - Come Play with Me (Hall) 8:45am to 9:15am




School Assembly - 2:20pm to 2:50pm
Tue 14 - 17 Nov

Kindergarten 2024 - Story Time Session B - 9:15am to 10:15am

Fri 17 Nov

High School Orientation Day at MacKillop College and St Joseph's Regioanl College

Tue 21 Nov

Kindergarten 2024 - Orientation Session - 9:30am to 12:00pm

Diocesan Summer Sports Trials (Basketball) - Lismore

Thur 23 Nov

K-6 NRL Blitz (School Oval)

Diocesan Summer Sports Trials (Touch Football) - Lismore

Fri 24 Nov

Kindergarten 2024 - Orientation Session - 9:30am to 12:00pm

Mon 27 Nov

Kindergarten 2024 - Orientation Session - 9:30am to 1:00pm

Tue 28 Nov

Out of Uniform Day - Christmas Hamper Appeal

Thur 30 Nov

K-6 NRL Blitz (School Oval)

Christmas Hamper Packing - 9:00am to 11:00am

Fri 1 Dec

Mon 4 Dec

Kindergarten 2024 - Family Engagement Evening

Thur 7 Dec

K-2 NRL Gala Day (School Oval)

Fri 8 Dec

End of Year Mass - 12:15pm to 1:15pm

Mon 11 Dec

Whole School Transition - 2024 Classes

Tue 12 Dec

St Agnes' Year 6 Graduation Mass - 12:00pm to 2:00pm

Year 6 Graduation - 6:00pm to 8:00pm

Wed 13 Dec

Year 6 Fun Day - Stoney Aqua Park

Thur 14 Dec

Last Day of Term 4 for Students

Year 6 Walking Excursion
From the Leaders
On Sunday the Gospel from Matthew continues Jesus' teaching about the scribes and Pharisees, who he calls hypocrites. He recognises that they have great knowledge of the Jewish law and that their studious efforts have given them a certain authority to teach. This is what Jesus means when he says 'sit on the chair of Moses. But then he points out that the scribes and Pharisees 'preach but not practise". They sought places of honour at the synagogue and have titles such as "Rabbi", which is the Jewish title for a respected teacher. Instead they should be focused on helping the people live righteous lives and showing they practise what they preach.
October is the Month of the Rosary, but at Aggies we are celebrating this month. We are so grateful to our current Year Six students who lead our school in so many ways. This week we had 50 students volunteer to lead grades in the Rosary over the next few weeks.
Staffing Update
As Parish school leaders we support and acknowledge the wonderful opportunities that our teachers have to engage in transfer experiences between our Catholic schools. We are delighted to announce that Mrs Emma Kelly has been offered a two year secondment from St Agnes' Primary to St Peter's Primary beginning at the start of 2024. Both communities congratulate Emma and wish her all the best for this exciting professional learning opportunity.
Welcome Jesse
We are very excited to welcome a new staff member to our Front Office Team. Jesse is a student from Newman Senior Technical College studying Business and has joined our office team as a School Based Trainee for the remainder of 2023 and also the 2024 school year. Please join with us in making Jesse feel at home in our beautiful school.
Year 5 Leadership Day
Year 5 students took part in a Leadership Development day on Tuesday at the Youth Hub. This was led by their class teachers and Mrs Thurlow. Activities included identifying different types of leaders, their characteristics and roles. Team building, finding out more about Year 6 Student Leadership opportunities and a hot chip lunch were other highlights of the day. From this experience students will now begin the process of self nomination for SRC roles, writing and then delivering speeches in front of the school.
Socktober
Thank God for Miss Rinnie who has worked with our SRC members to make sock balls and then host a shootout to raise awareness for those less fortunate in Timor-Leste. Monetary donations will be forwarded from Craft for service sales later in the year. The crazy socks added so much colour and fun to our day.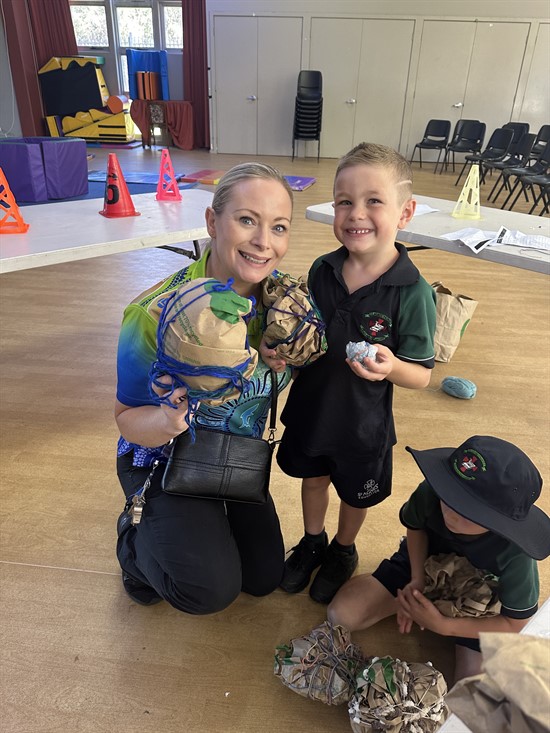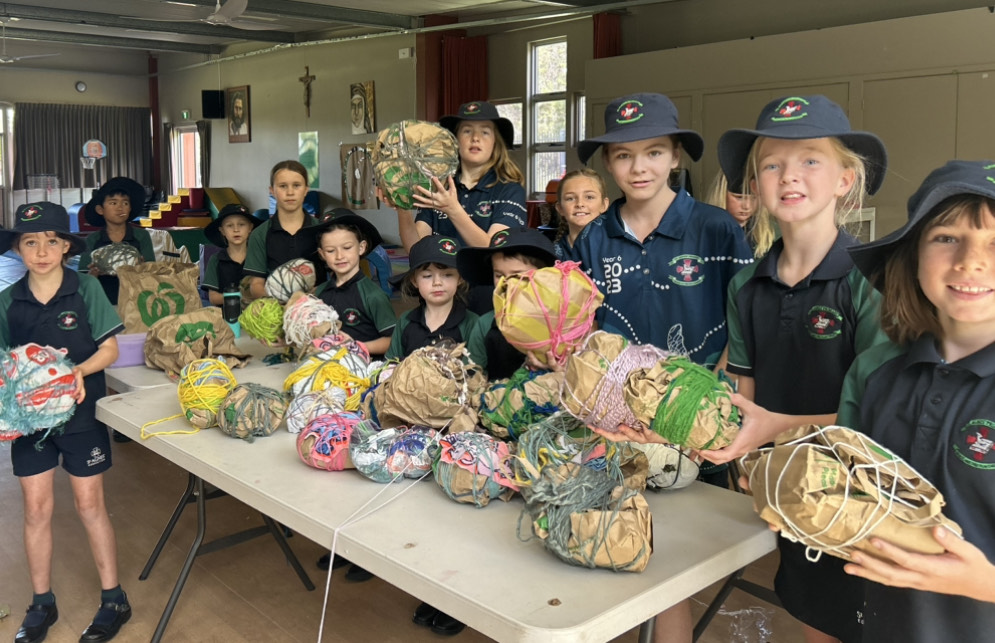 Altar Servers
Yesterday three amazing young people had their first opportunity to altar serve for our school community. Thanks so much to Raquel, Makayla and Joe for assisting Father Roland with the Year 4 Mass. The beautiful Vanessa Denham also came to support these students for the first time.
Library Time
Year 3 and 4 students are embarking on a creative adventure as they craft their very own comic strips and graphic novels as part of their Library time. Through this unique project, they'll discover the power of storytelling through visuals and short captions and realise the importance of planning.
Clean Up Aggies
This week as part of our Clean up Aggies Campaign each grade became responsible for an area of the school to clean up. Classes also planted designated areas of the school and will be responsible for their ongoing care. Another welcome addition has been the dressing of another tree at the front of the school with knitting and crochet. These items have been created by students during Knitting Club and generously donated by other family members. We love the results.
Christmas Hamper Appeal
On Tuesday 28 November we will be holding a collection of Christmas Hamper items as a donation for coming out of uniform. Traditionally all of the catholic schools and other entities in Port Macquarie support this fabulous parish based initiative.
A list of grade specific grocery items will be sent home next week. Food hampers will then be packed at school and delivered on the first weekend in December to needy families within the parish.
We thank Bunnings Port Macquarie for their generous donation of 25 hamper tubs for us to fill.
Return and Earn
Thank you Max, Hudson and Mrs Post for your great work in organising Return and Earn recyclables. This week the boys were able to give Aunty Kirrily over $30 to go towards vouchers for the Christmas Hampers. This not only benefits those less fortunate, but is helping us to be mindful of caring for the environment.
We encourage families to continue to support our school uniform policy by ensuring students wear the correct shoes, socks and hats for the remainder of the year, along with meeting expectations for acceptable hair styles. Hair is to be tied back off the face for learning, especially if it is shoulder length or longer. Cut out designs, mullets and unnatural hair colours continue to fall outside of these regulations. Could you please send a note with your student to their class teacher if they are not able to wear the correct uniform, including sports shoes on sports days only.
Student Injury Insurance Process
On occasions students may sustain an injury at school. Students are covered under the school's Student Accident Insurance policy. Please follow the guidelines below to access this.
Parents are to pay all medical and other accounts, as the insurer will not pay these on their behalf.




Parents make their Medicare claim.




Student Accident Insurance includes coverage for non-Medicare medical expenses (when the accident happened during school or organised sporting activities). Any portion of any expense for which a Medicare benefit is paid or payable, including the balance of monies individuals have to bear after deduction of any Medicare benefit or rebate from the actual expense incurred (commonly known as the 'Medicare gap'), is unable to be reimbursed under this or any other general insurance. It is, in fact, a breach of the Health Insurance Act to reimburse such costs.




All claimable non-Medicare medical expenses need to be for treatment, certified necessary by a legally qualified medical practitioner, to a registered private hospital, physiotherapist, chiropractor, osteopath, nurse or similar provider of medical services excluding the cost of dental treatment unless such treatment is necessarily incurred to sound and natural teeth, excluding dentures, and is caused by accident.




Parents make their Private Health insurance claims, as the insurer's obligation is only for any portion not covered by Private Health.




Complete the attached School student accident claim form (note that there is a section to be completed by the school).




The attending doctor is to complete the Medical practitioner's statement.




Parents are to send all completed documents and any accounts and receipts in support of out-of-pocket expenses claimed directly to Chubb.
Come Play With Me
Come play with me continues to bring in Kinder students of the future.

Family and School Partnerships
Come Count With Me
It was wonderful to see so many families join us for our 'Come Count with Me' Mathematics afternoon. Our students enjoyed being the 'teachers' while sharing their activities with their families and peers.

Keep an eye out on Seesaw where these activities will be shared for all of our families, so that students may have an opportunity to show off some of their mathematical learning at home.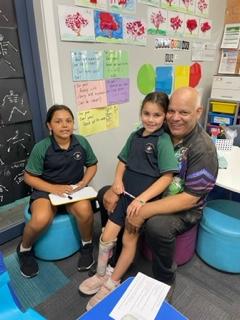 PBS
We continue with our PBS focus this week on being Respectful. The students will be learning about how they can be and show that they are active listeners and how they can respond positively when we are asked to do something.
I am respectful when I respond positively to a request, I respectfully listen and reply to my teachers, school staff and my friends.
Sports News
Summer Sports Trials
Congratulations to our students who participated in the Zone Summer Sports Trials on Monday. Our touch football players travelled to Kempsey and played in a gala day format while our basketball players were at the Port Macquarie Indoor Stadium. All of our students played well and represented themselves and their school with pride. Bailey Ackroyd, Harley Cadden and Stella Donohue were successful in gaining selection for touch football, and Flynn Wehlow for basketball. These four students will compete at the Diocesan Summer Sports Trials in Lismore on 24 November. Well done Bailey, Harley, Stella and Flynn.
Surf Life Saving Information Sessions
On Monday, local lifeguards from Surf Life Saving Australia will attend the school and meet with students in Years 2, 4 and 6. They are visiting the school to instruct students about safe swimming practices at the beach, including using flagged areas and reading ocean conditions. On Thursday 9 November, our Year 5 students will travel to Town Beach for a surf safety beach lesson. Through interactive learning sessions, students will work with lifeguards to build surf and sun safety.
NRL Development Blitz and Infants Gala Day
The NSW NRL will deliver coached sporting sessions to all grades this term through their Development Blitz program. Students will attend two training sessions through weeks 7 and 8 aimed at inclusion and developing the skills to play rugby league. The sessions are non-contact and accessible to all students. Associated with the Blitz coaching is a new initiative for our infants. In week 8, the NRL will host a small league tag gala day at our school. The carnival will be a fun day of football for all students in Kindergarten, Year 1 and Year 2. More information for the gala day will be provided closer to the event.
St Agnes Swimming Carnival
Events are now open for the Aggies Swimming Carnival at the Port Macquarie Swimming Pool on Friday 1 December. Students must register for championship events via the schoolinterviews.com.au and use the event code drnt5, alternatively, you can scan the QR code for bookings.
Families can sign their students up for the following events:
50m Freestyle

50m Breaststroke

50m Backstroke

50m Butterfly

100m freestyle
The schedule and permission notes will be sent out next week. We will also be looking for help from families on the day with timekeeping. There will be an opportunity to sign up through Compass.
Student Awards
DOJO Awards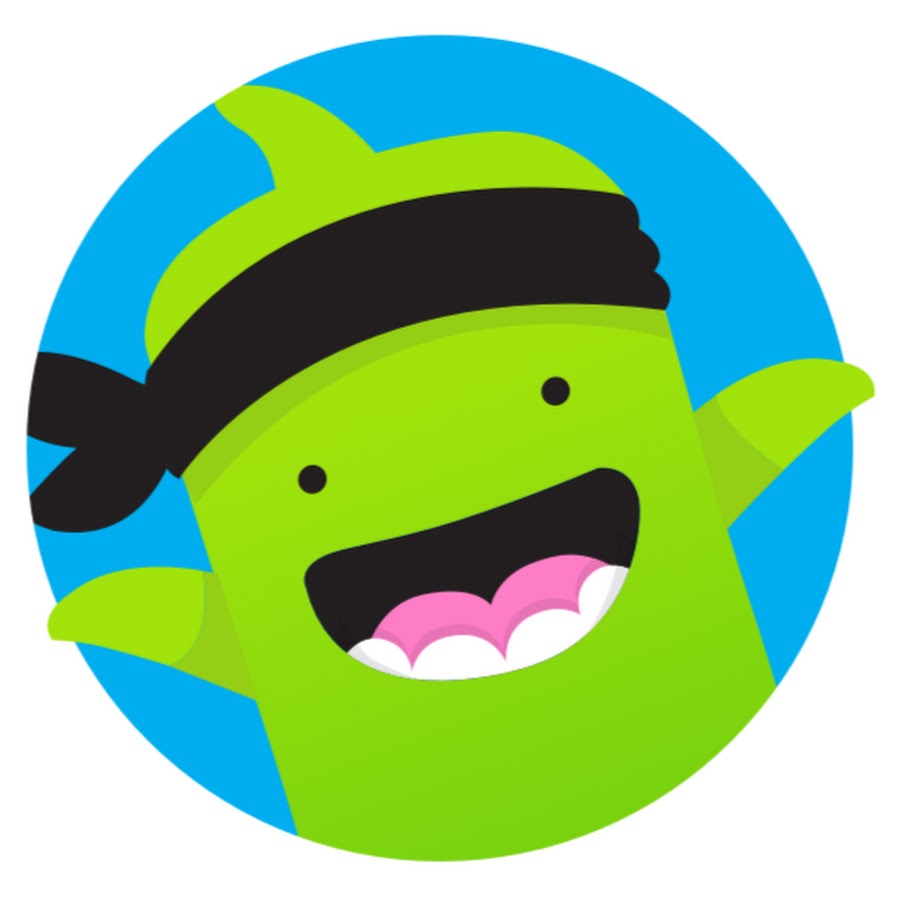 Congratulations to the following students who have reached 500 Dojos:
Charlotte M, Joel C and Mikayla O
Congratulations to the following students who have reached 400 Dojos:
Cade S
Congratulations to the following students who have reached 300 Dojos:
Aadi P, Amber N, Cade S, Emily T, Hadley M, Lotte P, Mike R, Nicholas B, Paityn P, Rose M, Sadie S, Sam B, Thomas B, William G and Zayne D
Congratulations to the following students who have reached 200 Dojos:
Alexis L, Ally S, Banjo T, Elle H, Elsie M, Georgia B, Isolde O, James R, Lacey W, Logan S, Mahli F, Matilda W, Melissa M and Reginald F
Canteen News
| | |
| --- | --- |
| Monday | Rebecca Baker |
| Tuesday | |
| Wednesday | Linda Smith |
| Thursday | |
| Friday | Kristy Judge and Alison Neale |
Parish News
General Information