Newsletter - Term 4 Week 3
Calendar
Term 4 Week 4
Mon 30 Oct

Whole School Prayer - 9:00am

Summer Sports Trials

Touch Football - Kempsey - Bus departs School at 7:30am

Basketball - Port Macquarie Indoor Stadium - 8:50am to 1:00pm (Private transport)




Tue 31 Oct

Year 5 Leadership Day - Youth Hub - 9:00am to 2:00pm

Wed 1 Nov

Whole School Prayer - 9:00am - Hosted by Year 5

Clean Up Aggies Day

Aggies Connects - Family Maths Afternoon - 2:15pm to 3:00pm (All Welcome)

Thu 2 Nov

Year 1 Excursion - Town Beach Park - 9:30am to 12:15pm

Year 3 Excursion- Sea Acres - 9:30am to 2:10pm

Year 4 - Mass at Christ The King Chapel - 10:00am to 11:00am

Aggies Connects - Come Play with Me (Hall) 2:15pm to 3:00pm




Aggies Connects - Come and Borrow With Me (Library) - 3:00 to 3:30pm




Fri 3 Nov

Socktober - Crazy Sock Day




Aggies Connects - Come Play with Me (Hall) 8:45am to 9:15am



Mon 6 - 9 Nov

Kindergarten 2024 - Story Time Session A - 9:15am to 10:15am

Mon 6 Nov

Surf Safety Visit - Year 2, Year 4 and Year 6

Thur 9 Nov

Year 5 Surf Safety Excursion - Town Beach

Tue 14 - 17 Nov

Kindergarten 2024 - Story Time Session B - 9:15am to 10:15am

Fri 17 Nov

High School Orientation Day at MacKillop College and St Joseph's Regioanl College

Tue 21 Nov

Kindergarten 2024 - Orientation Sessions - 9:30am to 12:00pm

Thur 23 Nov

K-6 NRL Blitz (School Oval)

Fri 24 Nov

Kindergarten 2024 - Orientation Sessions - 9:30am to 12:00pm

Mon 27 Nov

Kindergarten 2024 - Orientation Sessions - 9:30am to 1:00pm

Thur 30 Nov

K-6 NRL Blitz (School Oval)

Fri 1 Dec

Mon 4 Dec

Kindergarten 2024 - Family Engagement Evening

Thur 7 Dec

K-2 NRL Gala Day (School Oval)

Fri 8 Dec

End of Year Mass - 12:15pm to 1:15pm

Mon 11 Dec

Whole School Transition - 2024 Classes

Tue 12 Dec

St Agnes' Year 6 Graduation Mass - 12:00pm to 2:00pm

Year 6 Graduation - 6:00pm to 8:00pm

Wed 13 Dec

Year 6 Fun Day - Stoney Aqua Park

Thur 14 Dec

Last Day of Term 4 for Students

Year 6 Walking Excursion
From the Leaders
This Sunday's Gospel from Matthew (Matthew 22:34-40), focuses on the two greatest commandments given, 'To love God with all your heart, soul and mind', and 'To love your neighbour as yourself.' During this time the Pharisees were more in being favoured by God than helping people to understand and apply the Jewish faith to their everyday life. Ultimately, some of the teachers were not good models of the faith for the rest of the Jewish people to look up to. Jesus made the Law easier to understand by reducing the Ten Commandments to the Two Great Commandments. How can we show our love for God and for our neighbours?
Thanks to our families who generously donated towards the SRC, Think Pink cause today helping us raise over $600.
Wear It Pink is typically observed on the last Friday of October. This year's theme, 'No one should face breast cancer alone' serves as a reminder for providers to consider the many ways they can partner with patients and families in the prevention, detection, and treatment of breast cancer. Each year the SRC identifies charities they would like to support. We are proud of the efforts our Year 6 leaders have made again this year in thinking of others' needs as they dedicate two lunch times each week to helping out with causes for St Agnes' Primary School, the parish and wider community.
Socktober
Loana Wallace spoke to staff and students about how we can kick goals in support of making a difference in the lives of children and communities in need in Timor-Leste. One of Australia's closest neighbours, Timor-Leste is a small island republic just under 700kms from Darwin. Funds raised through Catholic Missions in 2023 will help to provide vital medicines and health support for these people. During lunch time next week, Miss Rinnie and the SRC will work with volunteers to make socktober balls out of recycled materials and then participate in a 'shootout' to raise goals and awareness. Some of the funds raised through Craft for Service this term will be donated to helping the Salesian Sisters carry out their invaluable work.
$50 - Can help provide milk and food for babies with malnutrition
$80 - Can help provide life-saving medication for sick children
$700 - Can help support the wage of a nurse at the clinic
How do I show respect for Creation?
The earth and all life on it are part of God's creation. We are called to respect this gift. We are responsible for taking care of the world we live in and for sharing all the wonders and resources the earth gives us.

Our changing environment prompts us to stop and think about how we live on our planet. We are called to respond and to adopt new ways of living as Pope Francis highlights in his encyclical, Laudato Si': On the Care for our Common Home.
On Wednesday 1 November, Aggies will be involved in an SRC initiative focusing on caring for our common home. Pope Francis has taught us through Laudato Si that:
The word 'creation' has a broader meaning than 'nature'; for it has to do with God's loving plan in which every creature has its own value and significance.
On Wednesday, each class will be involved in planting a plant around our school environment and become responsible for its ongoing nurture. Then on Friday in their Social Circles lesson, the focus will be on how we affect creation. We look forward to adding to the already beautiful front area that welcomes us into St Agnes' Primary School.
Altar Servers
We are so grateful to Vanessa Denham for assisting in training some amazing young people who have volunteered to become altar servers for our Masses and Liturgies.
On Thursday, we saw Jake Glover, Joseph O'Brien, Makayla Dickson, Raquel Rangel, Marlie Baillie train with Miss Denham's expertise and Josh Abraham's mentoring. We look forward to welcoming these children in supporting our faith celebrations through the altar serving ministry.
ICAS
We continue to celebrate the academic achievements of our students who participated in our recent ICAS assessments designed by the Univeristy of Sydney.
English
Credit: Joseph O'Brien
Writing
Credit: Lucy Davis
Merit: Dhiya Varsani
Participation: Rayan Wadud, Avinav Sivaraj, Emily Lonergan, Piya Varsani, Alexander Bushe, Dominic Ritchie, Skylah Neale, Scarlett Fowler and Hamish Downie
Mathematics
Distinction: Michael Lonergan
Credit: Malakai Brown, Avinav Sivaraj, Joseph O'Brien, Lorcan Byrne, Alexander Bushe and Flynn Ackroyd
Merit: Aaron Varghese, Callum Judge, Ardan Byrne and Nicholas Bushe
Participation: Rayan Wadud, Dhiya Varsani, Blaze Bayner, Shivum Neupane, Emily Lonergan, Max Browning, Piya Varsani, Dominic Ritchie, Skylah Neale, Archie Millard, Scarlett Fowler, Hamish Downie, Ella Ritchie, Aadi Panchal and Ara Jo
Spelling
Credit: Dhiya Varsani, Aaron Varghese, Avinav Sivaraj, Piya Varsani and Michael Lonergan
Merit: Jude Henderson, Hamish Downie and Nicholas Bushe
Participation: Joseph O'Brien, Emily Lonergan, Dominic Ritchie, Ella Ritchie and Aadi Panchal
Lunch Clubs
Our Aggies' Coding Club provides students with the opportunity to learn valuable skills in a fun and interactive way. Coding promotes problem-solving, creativity, and critical thinking, which are crucial in today's tech-driven world. It also fosters teamwork and collaboration as club members work together on coding projects. Aggies' Coding Club during lunchtime, serves as a break from the usual routine, allowing students to recharge and return to their afternoon classes with a fresh perspective. It's a fantastic way for students to develop important skills and have a great time doing it!
Our Aggies' eSports lunch club offers a unique and engaging way for individuals to connect. It promotes social interaction among the children, fostering a sense of community and camaraderie. It also provides an opportunity for stress relief and relaxation during the lunch break, helping to recharge and refocus for the rest of the day.
Did you know, Aggies' eSports can enhance cognitive skills such as problem-solving, teamwork, and strategic thinking.
E-Safety Webinar for Primary School Students
All parents are encouraged to register for a free 30-minute webinar to be held on Thursday 9 November, from 7:30pm to 8:00pm. The webinar facilitated by the e-Safety Commissioner will cover:
creating a positive digital identity

privacy and sharing online

managing what you see online

good practices in group chats

help-seeking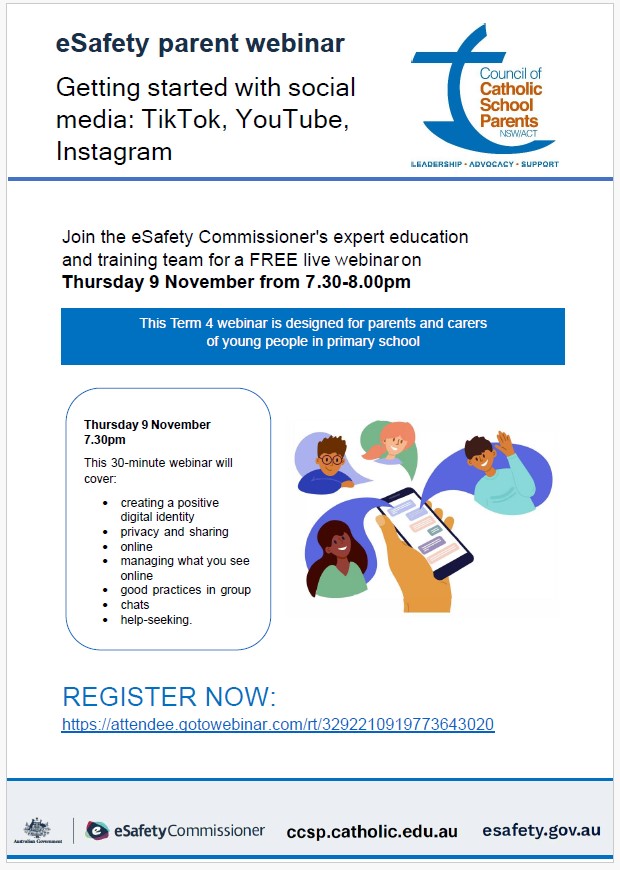 Pastoral Care
Parents and carers are well-placed to observe suicide warning signs, encourage alternative coping strategies and help young people and adults access support. Empower yourself to have effective conversations with others by registering for this FREE 90 minute online training via the link on the flyer below.
Family and School Partnerships
St Agnes' Parish Mass
Thank you to our families who joined us on Sunday evening for our St Agnes' Parish Mass. Our students led the singing beautifully. We are so proud of you!
Come and Count with me: How can I support my child with Mathematics at home?
You are invited to join us for an informal afternoon of mathematical fun! On Wednesday 1 November we will be hosting an Aggies Family Maths Afternoon from 2:15pm. Join us in our learning spaces where your child will teach you some of the games and activities that help them with their understanding of Mathematics. We understand that not all families will be able to attend, so keep an eye on SeeSaw for activities that you can engage with at home. We look forward to our students being able to 'show off' their mathematical skills to you.
PBS
We continue with our PBS focus for the next two weeks on being Respectful. The students will be learning about how they can be and show that they are active listeners and how they can respond positively when we are asked to do something.
I am respectful when I respond positively to a request, I respectfully listen and reply to my teachers, school staff and my friends.
Sports News
Polding Athletics
Congratulations to Harley Cadden and Indigo Duncan, who participated in the NSW PSSA Athletics State Championships at Homebush Athletics Centre this week. The event provided very different weather conditions for our two athletes. Indigo braved hot conditions on Wednesday and ran in the Senior Girls 1500m. Harley contested the 11yrs long jump in the wind and rain. We are still waiting on the final results, but it is a huge achievement for our Aggies students to compete at such an elite level. Well done Harley and Indigo.
Summer Sports Trials
Good luck to our Year 4 and Year 5 students contesting the Zone Summer Sports Trials on Monday. Twenty students will head to Kempsey for the touch football trials, and our basketballers will trial at the Port Macquarie Indoor stadium. These students will showcase their skills in gala day formats, attempting to gain selection for the Diocesan selection to be held in Lismore on 24 November. Best of luck to all our touch football and basketball players.
Surf Life Saving Information Sessions
This week, we have received confirmation that in Week 5, local lifeguards from Surf Life Saving Australia will attend the school and meet with students in Years 2, 4 and 6. In preparation for Summer, the lifeguards will instruct the students about safe swimming practices at the beach, including using flagged areas and reading ocean conditions.
Our Year 5 students will travel to Town Beach on Thursday 9 November, for a surf safety beach lesson. Through interactive learning sessions, students will work with lifeguards to build surf and sun safety.
NRL Development Blitz and Infants Gala Day
The NSW NRL will deliver coached sporting sessions to all grades this term through their Development Blitz program. Students will attend two training sessions through Weeks 7 and 8 aimed at inclusion and developing the skills to play rugby league. The sessions are non-contact and accessible to all students.
Associated with the Blitz coaching is a new initiative for our infants. In Week 8, the NRL will host a small league tag gala day at our school. The carnival will be a fun day of football for all students in Kindergarten, Year 1 and Year 2. More information for the gala day will be provided closer to the event.
Diocsean Netball Challenge
We received the unfortunate news that the finals for the Diocesan Netball Challenge were cancelled this week, due to high temperatures. This event had previously been postponed in Term 3, but unfortunately for our netballers, it is now cancelled.
St Agnes' Swimming Carnival
Preparation is underway for the Aggies Swimming Carnival at the Port Macquarie Swimming Pool on Friday 1 December. The day is aimed at inclusion for all. Students can participate in championship events or involve themselves in free swimming and non-championship activities. A notice will be posted on Compass with a schedule for championship and non-championship events in the coming weeks. The post will also contain a QR code for school interviews, where families can sign their students up for the following events:
50m Freestyle

50m Breaststroke

50m Backstroke

50m Butterfly

100m Freestyle
We are looking for help from families for timekeeping on the day. There will be an opportunity to sign up on the school interviews website for anyone interested.
Student Awards
DOJO Awards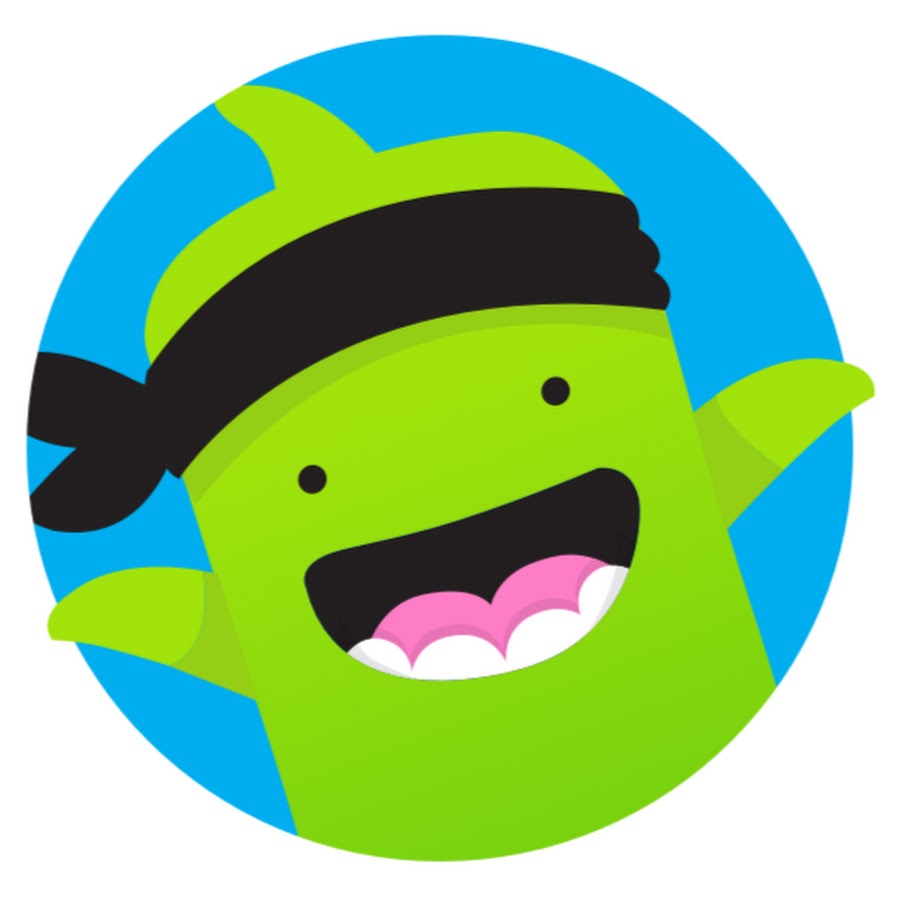 Congratulations to the following students who have reached 400 Dojos:
Arie F, Asha G, Eli M, Ivy C, Lachlan C, Maja B, Scarlett E and Sophia H
Congratulations to the following students who have reached 300 Dojos:
Akshara S, Ardan B, Benjamin O, Carolina H, Charlee C, Charlie R, Clementine H, Dreigh T, Hudson S, Isobel W, Jannah S, Lachlan F, Levi W, Lily S, Mia F and Olivia B
Congratulations to the following students who have reached 200 Dojos:
Alexander V, Arliah F, Arthur H, Ashton M, Avinav S, Bailey A, Benjamin O, Bilyana B, Bonnie C, Casey C, Clayton U, Cohen T, Connor C, Cour'Tarlor K, Darcy T, Elkie L, Emily L, Felix J, Flynn A, Hailey J, Henry F, Hudson M, Indigo D, Isabella K, Jagga S, Jessyka P, Joshua M, Jovan C, Kaitlyn J, Kaylee M, Kendall C, Kobe M, Lacey W, Laylah W, Leo H, Levi O, Mars A, Max B, Milly O, Nate M, Nate M, Olive H, Parker C, Penny B, Piper B, Rocco M, Sophie C, Tessa T, Theodore D, Tiger Lily R and Ziggy W
Assembly Awards
Alexander M, Amber Sage N, Ariah A, Arthur H, Ashton S, Avery C, Braxton H, Chase M, Cody N, Connor B, Dhiya V, Duke W, Eli B, Elloise G, Flynn W, Grace M, Hailey J, Harper W, Harry A, Hudson M, Isolde O, Ivy G, Jack D, Jack F, Jessyka P, Jett L, Julius M, Kanata N, Maja M, Makayla D, Marcella J, Maxwell S, Melissa M, Mike R, Nathan C, Noah U, Olive H, Olivia B, Thomas B, Tilda R, Willow H and Zuri T
Canteen News
| | |
| --- | --- |
| Monday | |
| Tuesday | Kerri Smith |
| Wednesday | Barbara McGregor and Maryanne Field |
| Thursday | Kerri Smith |
| Friday | Kerri Smith, Tracey Waind and Karyn Reincastle |
Parish News
General Information