Newsletter - Term 4 Week 2
Calendar
Term 4 Week 3
Sun 22 Oct

Choir singing at 5:00pm Mass - St Agnes' Church

Mon 23 Oct

Whole School Prayer - 9:00am

Year 6 Graduation Planning Meeting - 5:00pm to 6:00pm




Tue 24 Oct




Wed 25 Oct

Whole School Prayer - 9:00am - Hosted by Year 4

Diocesan Netball Challenge in Grafton

Scholastic Book Club orders due

Thu 26 Oct

Year 5 Mass at Christ The King Chapel - 10:00am to 11:00am

Aggies Connects - Come Play with Me (Hall) 2:15pm to 3:00pm




Aggies Connects - Come and Borrow With Me (Library) - 3:00 to 3:30pm




Fri 27 Oct

Aggies Connects - Come Play with Me (Hall) 8:45am to 9:15am

Out of Uniform - Wear Pink for Breast Cancer Awareness - Gold Coin Donation

Assembly - 2:20pm



Mon 30 Oct

Summer Sports Trials

Touch Football - Kempsey - Bus departs School at 7:30am

Basketball - Port Macquarie Indoor Stadium - 8:50am to 1:00pm (Private transport)

Tue 31 Oct

Year 5 Leadership Day - Youth Hub

Wed 1 Nov

Aggies Connects - Family Maths Afternoon - from 2:15pm

Thur 2 Nov

Year 1 Excursion - Town Beach Park

Year 3 Excursion- Sea Acres

Fri 3 Nov

Crazy Sock Day - refer 'From the Leaders' section

Mon 6 - 9 Nov

Kindergarten 2024 - Story Time Session A - 9:15am to 10:15am

Tue 14 - 17 Nov

Kindergarten 2024 - Story Time Session B - 9:15am to 10:15am

Fri 17 Nov

High School Orientation Day at MacKillop College and St Joseph's Regioanl College

Tue 21 Nov

Kindergarten 2024 - Orientation Sessions - 9:30am to 12:00pm



Fri 24 Nov

Kindergarten 2024 - Orientation Sessions - 9:30am to 12:00pm

Mon 27 Nov

Kindergarten 2024 - Orientation Sessions - 9:30am to 1:00pm

Fri 1 Dec

Mon 4 Dec

Kindergarten 2024 - Family Engagement Evening

Fri 8 Dec

End of Year Mass - 12:15pm to 1:15pm

Tue 12 Dec

St Agnes' Year 6 Graduation Mass - 12:00pm to 2:00pm

Year 6 Graduation - 6:00pm to 8:00pm

Wed 13 Dec

Year 6 Fun Day - Stoney Aqua Park

Thur 14 Dec

Last Day of Term 4 for Students

Year 6 Walking Excursion
From the Leaders
On Sunday this week the Gospel reading will be from Matthew 22: 15-21 for the 29th Week in Ordinary Time.
During this Gospel, Jesus is being tested by the Pharisees about following Caesar's laws on paying taxes versus his teachings about God. In Jesus' time those in Jewish lands had to pay taxes to the Roman Empire. If they refused they would be arrested. If Jesus had said they did not have to pay the tax, the Jewish people would have turned on Him because they would think he was cooperating with the Romans. If he said they should pay the tax, then the Pharisee would tell Pontius Pilate and Jesus would be arrested. In Jesus' clever response, he makes the important distinction to fulfil our obligations in the world - to go to school, to earn a living and to be a good citizen. However, we must also practise the virtues of faith, hope and love in our interactions with others. Before making tough decisions it is important to ask "How would Jesus respond?".
Loana Wallace is representing Catholic Schools Missions at Monday morning prayer next week to tell us more about the important work carried out through their organisation. Year 3 introduced our initiative involving supporting this year's cause regarding East Timor on Wednesday at school prayer. Students will continue to learn more about this social justice initiative and how we can show our support through Social Circles and by being invited to take part in Socktober Shootout activities during lunchtimes in Week 4 with Miss Rinnie and the SRC. Funds raised through our Craft for Service program will be donated to Socktober. Students are also invited to wear crazy socks on Friday 3 November and bring along any 'lonely socks' or socks that are no longer needed at home, to be used as part of a recycling activity at school. These can be handed in to the front office at any time over the coming weeks.
Breast Cancer Awareness
One of the charities the SRC have asked to support this year is Breast Cancer Awareness. Next Friday 27 October, students are invited to wear all pink or add pink accessories to out of uniform clothing for a gold coin donation. We look forward to seeing Aggies' pink for the cause.
We invite all staff, students and families to attend this Sunday Night's 5:00pm Family Youth Mass as our school is hosting the Music Ministry this week.
Students in Year Five who attended the Exuro Faith Retreat this week had fantastic feedback and look forward to sharing this experience with the rest of Year Five in the coming weeks.
Carpark Pickup
Three things to be conscious of if you are using our Carpark Pickup at Aggies.
Don't park across the pedestrian crossing in the entrance to Carpark Pickup

Please drive on when the lollipop sign holder asks you to avoid cars being banked up in Boronia Street and beyond, and allow residents to access their own driveways

Be respectful of all drivers.
At St Agnes', we continue to pray for all students doing the HSC this year.
E-safety webinar for Primary School Students
All parents are encouraged to register for a free 30-minute webinar to be held on Thursday 9 November, from 7:30pm to 8:00pm.
The webinar facilitated by the e-Safety Commissioner will cover:
creating a positive digital identity
privacy and sharing online
managing what you see online
good practices in group chats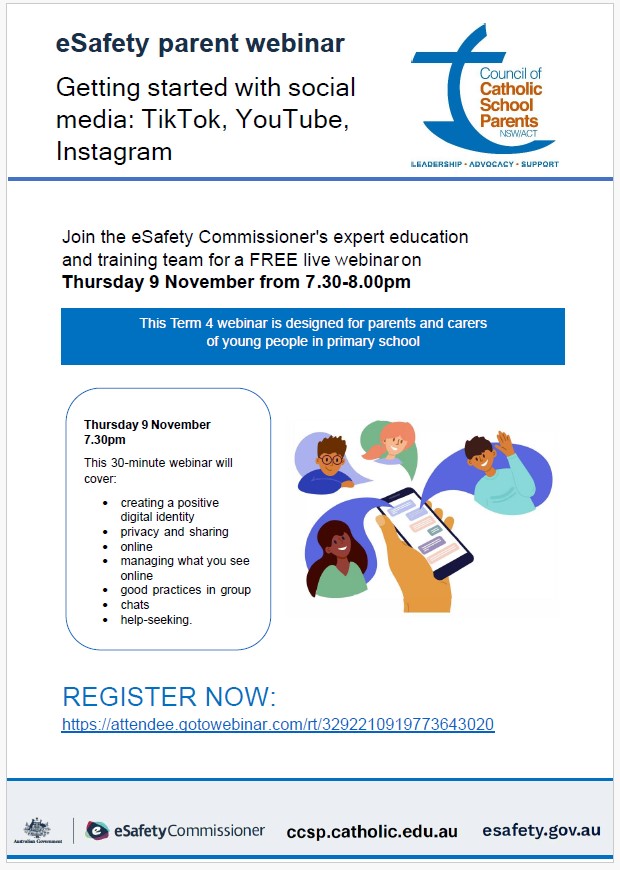 Parents said…Students said…Teachers said… We listened…
In the current school year, we'd like to update you on the insights from the "Tell Them From Me" survey that was conducted last term. Your participation, as well as the input from students and staff, has been vital, and we are deeply thankful.
Listening to Your Voices: We believe in the power of community and collaboration at our school. The survey aimed to capture input from students, parents, and staff to enhance our educational experience.
Identifying Priority Areas: Survey results highlighted areas of focus. Some students mentioned moments when their relationships lacked positivity and respect, guiding us toward growth opportunities.
Supporting Our Students: Our staff is actively developing tailored lessons in PDHPE programs to address the need for positive relationships and create an inclusive school environment.
Year 5 Leadership Retreat: One outcome as an example of this focus is that Year 5 students are embarking on a unique journey to prepare for Year 6 leadership roles. They'll enhance teamwork, communication, problem-solving and leadership skills.
We aim to create a positive, empowering school community where every voice is heard and valued. Our students have spoken and we are listening.

Family and School Partnerships
Come and Count with Me: How can I support my child with Mathematics at home?
You are invited to join us for an informal afternoon of mathematical fun! On Wednesday 1 November we will be hosting an Aggies Family Maths Afternoon from 2:15pm. Join us in our learning spaces where your child will teach you some of the games and activities that help them with their understanding of Mathematics. We understand that not all families will be able to attend, so keep an eye on Seesaw for activities that you can engage with at home. We look forward to our students being able to 'show off' their mathematical skills to you.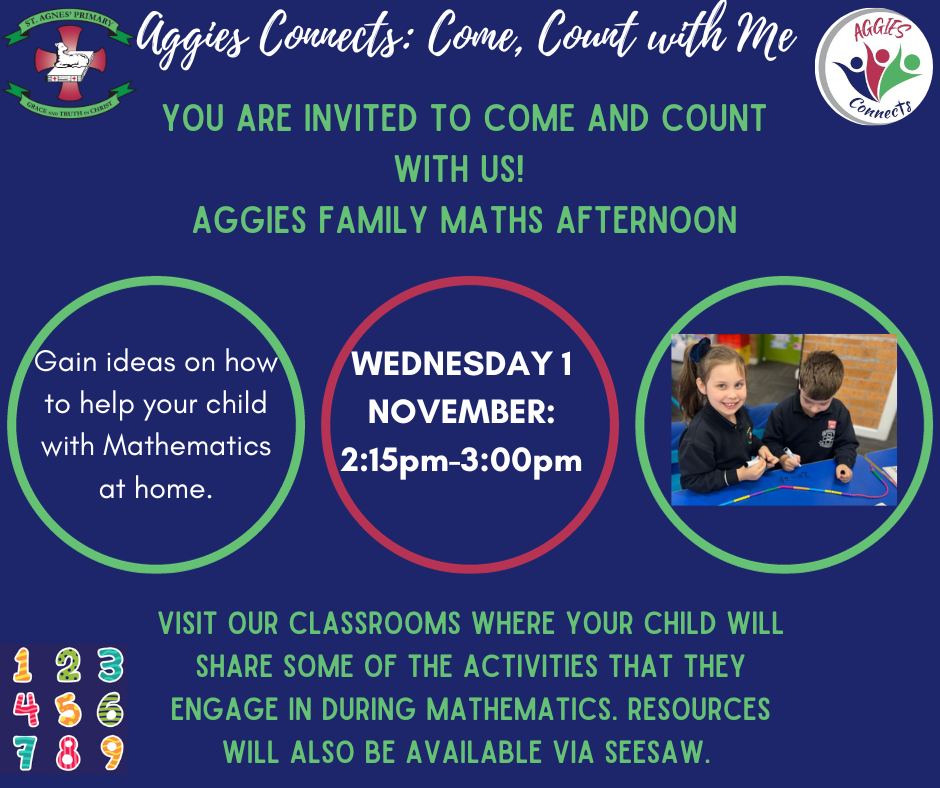 P&F Disco
It was wonderful to see so many smiles as we gathered together for our Disco last night.
Sports News
Polding Athletics
Last Friday, Indigo Duncan and Harley Cadden travelled to Sydney to compete in the Polding Athletics Carnival at Homebush Stadium. At this level, Harley and Indigo are competing against all Catholic schools in NSW, which is a fantastic achievement. Harley had a great result, taking the silver medal for the 11yrs long jump and narrowly missing the final in the 11yrs 100m sprint. Indigo took the bronze medal in a close 1500m race and placed 8th in the 800m event.
Harley and Indigo will now compete against all NSW primary schools at the NSWPSSA State Athletics Championships, held at Homebush, Sydney, on 25 October and 26 October.
Well done Indigo and Harley, and best of luck next week.
Summer Sports Trials
Touch football and basketball teams have been finalised for the 2023/2024 Summer Sports Trials. We will take twenty touch football players and twelve basketball players to the trials, where they will compete against other students from the Hasting Zone. From there, a team is selected to play at the Diocesan trials in Lismore on 24 November. Our touch players will travel by bus to Kempsey, and the basketball trials are at the Port Macquarie Indoor Stadium.

St Agnes' Swimming Carnival
Preparation is underway for the Aggies Swimming Carnival at the Port Macquarie Swimming Pool on Friday 1 December. The day is aimed at inclusion for all. Students can participate in champion events or involve themselves in free swimming and non-championship activities. A notice will be posted on Compass with a schedule for champion and non-championship events in the coming weeks. The post will also contain a QR code for school interviews website, where families can sign their students up for the following events:
50m Freestyle

50m Breaststroke

50m Backstroke

100m Freestyle
We are looking for help from families for time keeping on the day. There will be an opportunity to sign up on the school interviews website for anyone interested.
Student Awards
DOJO Awards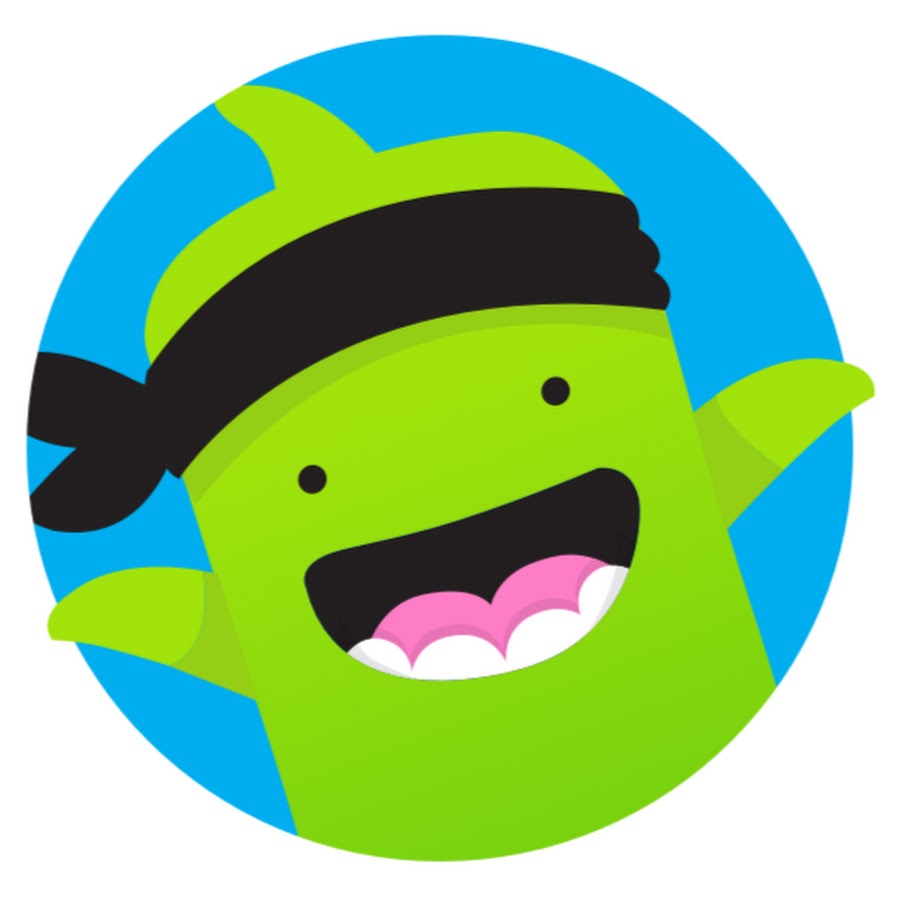 Congratulations to the following students who have reached 400 Dojos:
Billie B, Chelsea O, Emilia T, Jada U, Mike R and Utah E
Congratulations to the following students who have reached 300 Dojos:
Anna G, Audrey F, Ava C, Ava R, Elijah N, Florence H, Harrison B, Hayden N, Kai N, Lachlan P, Lucky S, Liam O, Mahli-Lee W, Maja M, Max S, Mia B, Mia B, Olive G, Rocky W, Ruben D and Vivienne L
Congratulations to the following students who have reached 200 Dojos:
Demi G, Elise G, Ella M, Georgina F, Grace L, Jack T, Jho'Arryn C, Kaiden O, Kobi W, Len D, Marley L,
Nathan K, Rayan W, Stella S, Storm T and Thomas E
P&F
Meeting Minutes
Monday night's minutes will be shared via the Compass Newsfeed on Monday 24 October 2023.
School Disco
Thank you to all who attended our 2023 P&F School Disco last night. It was wonderful to have so many families attend, join in the dancing or silent disco, catch up with others and share a pizza order of 252 pizzas! We hope everyone who attended enjoyed the night. Thank you to all the parents and staff who helped in the lead up and during the event. A very special thank you to the Disco Committee, as well as Ross and Mel from Blue Sky Community Services who provided the Silent Discos. The event would not have been possible without the help of so many. Your gold coin donations raised $388.80, which is going towards covering the event costs. If you wish to provide any feedback or ideas for the future, you are always welcome to contact us via pandfstagnes@gmail.com.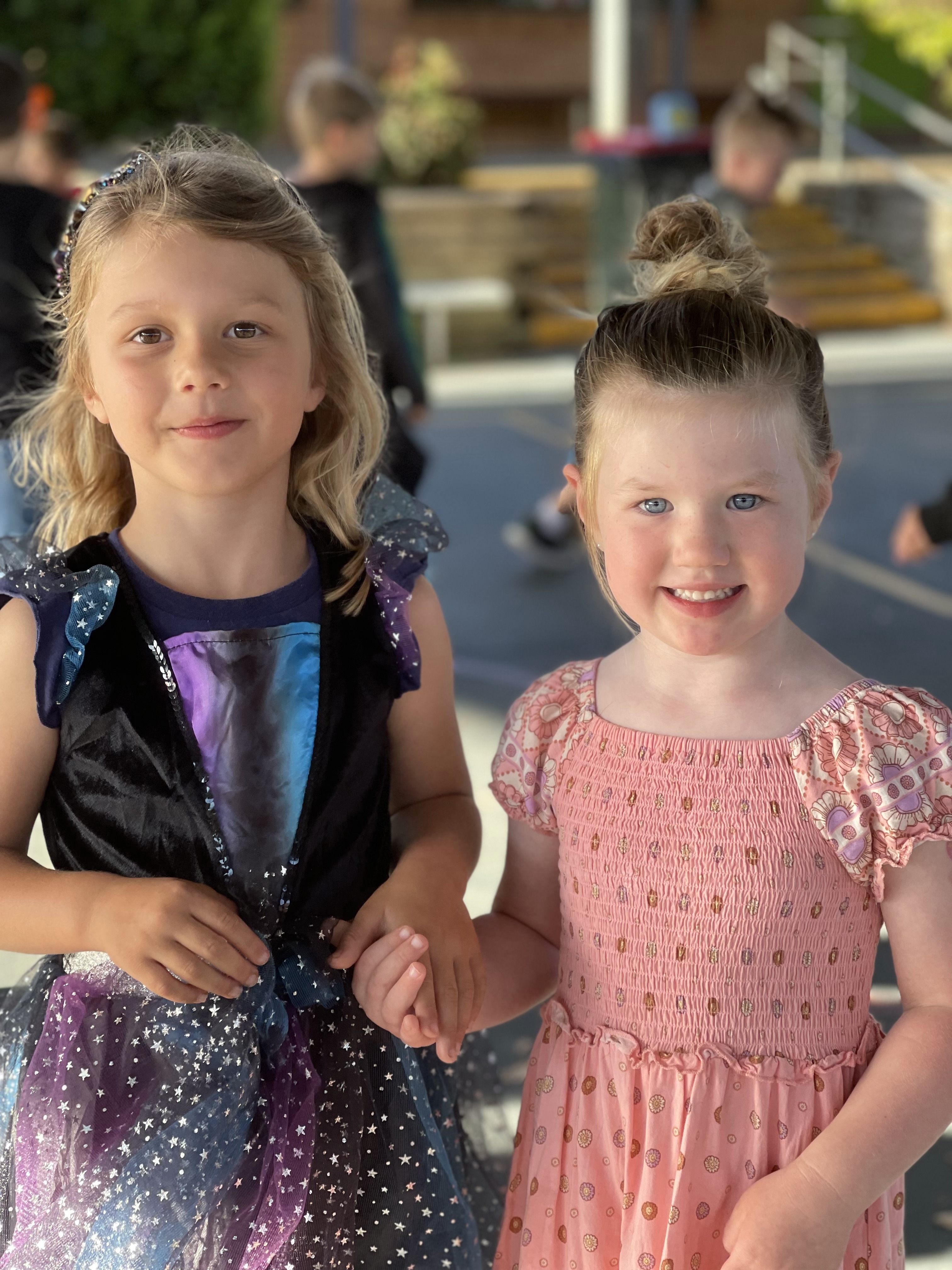 Prev
Showing images
1 - 8
of 11
Next
Canteen News
| | |
| --- | --- |
| Monday | Lynn Rangel |
| Tuesday | |
| Wednesday | AntonIa Mullen |
| Thursday | Maryanne Field |
| Friday | Veronica Swadling and Daniel Stewart |
Parish News
General Information