Newsletter - Term 3 Week 10
Calendar
Term 4 Week 1
Mon 9 Oct

Staff Professional Learning Day/Pupil Free Day (Child Minding Available)

Tue 10 Oct

First day of Term 4 for Students

Wed 11 Oct




Thu 12 Oct

Aggies Connects - Come Play with Me (Hall) 2:15pm to 3:00pm




Aggies Connects - Come and Borrow With Me (Library) - 3:00 to 3:30pm




Fri 13 Oct

Polding Athletics Carnival - Sydney




Aggies Connects - Come Play with Me (Hall) 8:45am to 9:15am




Sat 14 Oct

Family Engagement Morning - Kindergarten 2024
| | |
| --- | --- |
| Mon 16 Oct | |
| Thur 19 Oct | P&F School Disco - Halloween Theme - 5:15pm to 7:00pm |
| Wed 25 Oct | Diocesan Netball Challenge in Grafton |
From The Leaders
In this Sunday's Gospel from Matthew, Jesus tells us that God loves everyone the same way. This was highlighted when Jesus told his disciples the story of the landowner paying all of his workers the same wage, whether they worked for one hour or eleven hours. This parable follows a hiring practice that still exists in many parts of the world. Jesus' parable places the plight of the worker ahead of the need for profit.
Jesus asks us to rethink our understanding of what it means to be fair. Comparing ourselves to others might cause resentments toward their blessings or good fortunes. God's love is not fair when judged by human standards. His love is generous and without prejudice.
Year 6 Science
Year 6 have had fun in Science this week identifying and planning a skyscraper structure that had to survive the hazards of a cyclone. Students tested their product against a fan (simulating the wind hazard), spray bottle (representative of the rain) and cups of water (a flood) to see whether any improvements to their design was needed.
Socktober
Here in Australia, October marks World Mission Month, a celebration of the global work of the Church and the dedication of missionaries, both religious and lay, as they reach out and support children and communities in need around the world.
On World Mission Sunday, which falls on 22 October 2023, parish communities around the world will gather to pray for and raise funds to support the work of thousands of crucial church-run programs.
As part of our campaign, we invite families to send in any 'lonely socks'. Next term we are gathering socks to be used as whiteboard erasers as one of initiatives to encourage awareness of sustainability.
House Cup Winners Treat Day
Yesterday, Clarence students had a wonderful time enjoying their 'End of Term Treat' for being the winning house for Term 3. The red team ate popcorn while watching 'The Secret Life of Pets' and playing games, including water activities.
Front Yard Makeover
You would have noticed the work being carried out at the front of the school. The artificial turfing and upgrades will be completed next week. Thanks so much to Adam Mendes for sharing his skills during this project.
Year 5 Camp
The Year 5 students had an exciting and educational adventure during their 3 days at the Great Aussie Bush Camp in Tea Gardens. They immersed themselves in the Australian wilderness, learned valuable teamwork and leadership skills through challenging activities, engaged in outdoor learning experiences about local ecosystems and conservation, acquired survival skills, and gained a deep appreciation for Indigenous culture and the environment. The camp also included thrilling outdoor activities for fun and self-confidence building. The students returned with increased self-esteem, better peer relationships, and improved problem-solving skills. The school extends gratitude to the camp staff, and parents are encouraged to be proud of their children's resilience and adaptability. This outdoor learning experience has undoubtedly contributed to the students' personal growth and development.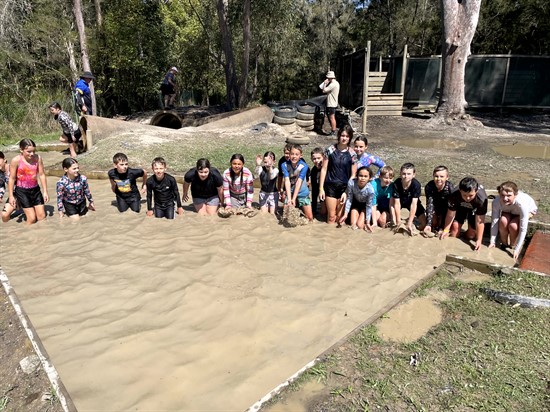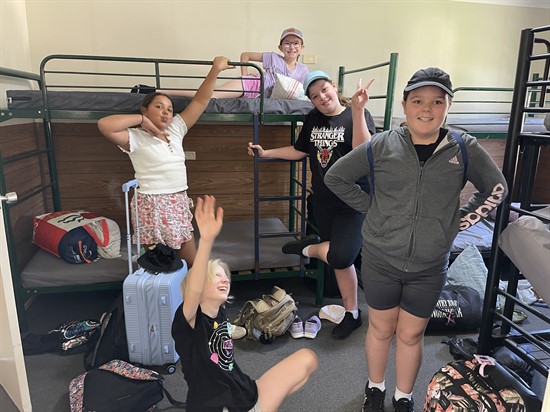 Exuro
14 students from Year 5 have nominated to attend the Exuro, Faith Student Leadership experience on 17 October at the Youth Hub. Mr Behan will take these students to learn more about their faith using various prayer methods, group processes and student-led discussions so they can lead the rest of their cohort through this retreat experience later in Term 4.
Staff Professional Learning Day - Monday 9 October
On Monday 9 October, staff will be participating in a Professional Learning Day here at school. Child minding will be available on this day if required. The canteen will also be open. Please click on the link below and use code 9vz6r or scan the QR code to book your child/ren in.
https://www.schoolinterviews.com.au/closed/5485581438025728
We had a special visitor at lunch time this week.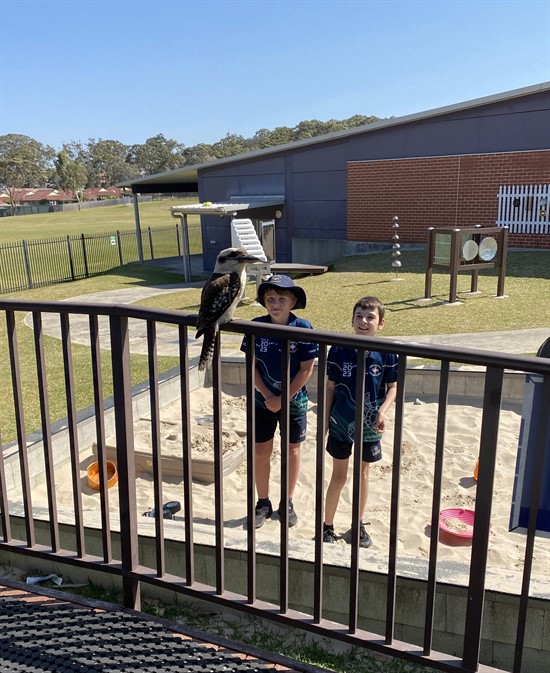 Dear Lord
Keep us safe in our activities; give us good rest and good fun. Bring us back refreshed and ready for a new term. We thank you for our classmates, teachers, parents and a community that cares for us. May we always be conscious of you in our lives.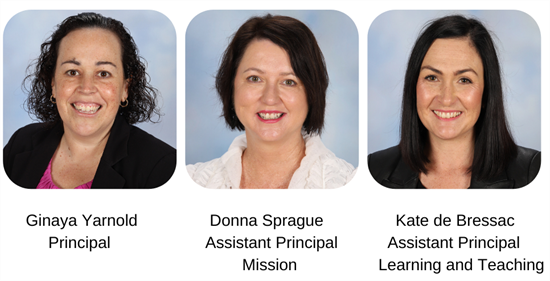 Pastoral Care
Social Media: Are They Old Enough?
While the internet offers incredible opportunities for children to access information and connect with others, it's important for parents to teach them how to navigate online environments safely. Without proper supervision and understanding of concepts like privacy, children may face negative experiences that can impact their well-being.

Wait Till 13
One common question that arises is when your child should have a social media account. Most social media platforms, including Instagram, Snapchat, TikTok, and Facebook, require users to be at least 13 years old to register. Following these guidelines, we recommend that no primary-aged child should have their own social media account. As a school community, we kindly request that you protect your child by allowing them to access social media only under your account and supervision.

After they are 13, take into account your child's:
Maturity

Resilience

Understanding of the impacts of social media.
Saying No
Safeguarding your child's confidence and self-worth during their primary school years is crucial, and social media can have negative consequences on your child's developing identity. We encourage you not to let the online environment distort this important phase of their development. Stay strong and resist the pressure to introduce your child to social media when they are too young.

Together, let's empower our children to explore the digital world safely while preserving their well-being and fostering a positive sense of self.
Learn about the latest games, apps and social media use for children in The esafety Guide.
Sports News
Polding Athletics
Two Aggies students will travel to Sydney on Friday 13 October, to compete at the Polding Athletics Carnival. Indigo Duncan will line up in the Senior Girls 1500m and 800m track events and Harley Cadden will contest the 11 yrs 100m and long jump events. Both students have done well to reach such an elite level of competition, and we wish them all the best at the meet. We look forward to hearing about their experiences on the day. Best of luck Harley and Indigo.
Diocesan Netball Challenge
This Wednesday, our Aggies team of mixed netballers were meant to compete in the finals for the Diocesan Netball Challenge in Gafton. Unfortunately, this was postponed due to concerns about high temperatures. The Diocese have announced Wednesday 25 October as the new date for the Netball Challenge and Paul Wilson Cup finals.
KM Club
On Wednesday, we wrapped up our first-ever Aggies KM Club. While we needed more time to make the boat at the Cairns Marina, the initiative was to have students involved in physical activity before learning began for the day, and we achieved that goal. We regularly had over fifty students across all grades and abilities, running, jogging and walking the track each Monday, Wednesday or Friday mornings.
The total kilometres covered by our students was 1485.25km. This landed us halfway up the Queensland coast in Mackay, about 700km short of our goal. Along the way, we visited Biripi, Dhanggatti, Gumbaynggirr, Yaegl, Bundjalung, Githabul, Yuggera, Gubbi Gubbi, Butchella, Gureng Gureng, Bayali, Darumbal and Yuwi country. We pay our respects to all the First Nations Peoples. This achievement was spread across all grades, with Year 1 and Year 6 being the most consistant KM Clubers. Spencer Gallafassi-Barnes and Julian Kuhn were the school's biggest metre eaters, completing over 30 kilometres each in the ten weeks. Well done Spencer and Julian.
Thank you to the Year 6 helpers on the track to hand out and punch cards, support our younger students and pack away equipment. Thank you to Mrs White for all the administration work, Mrs Wilson for IT support and ideas and the students for coming down and running with us.
The KM Club will take a break in Term 4 and return in Term 1, 2024, to help students prepare for the Cross Country Carnival.
Student Awards
DOJO Awards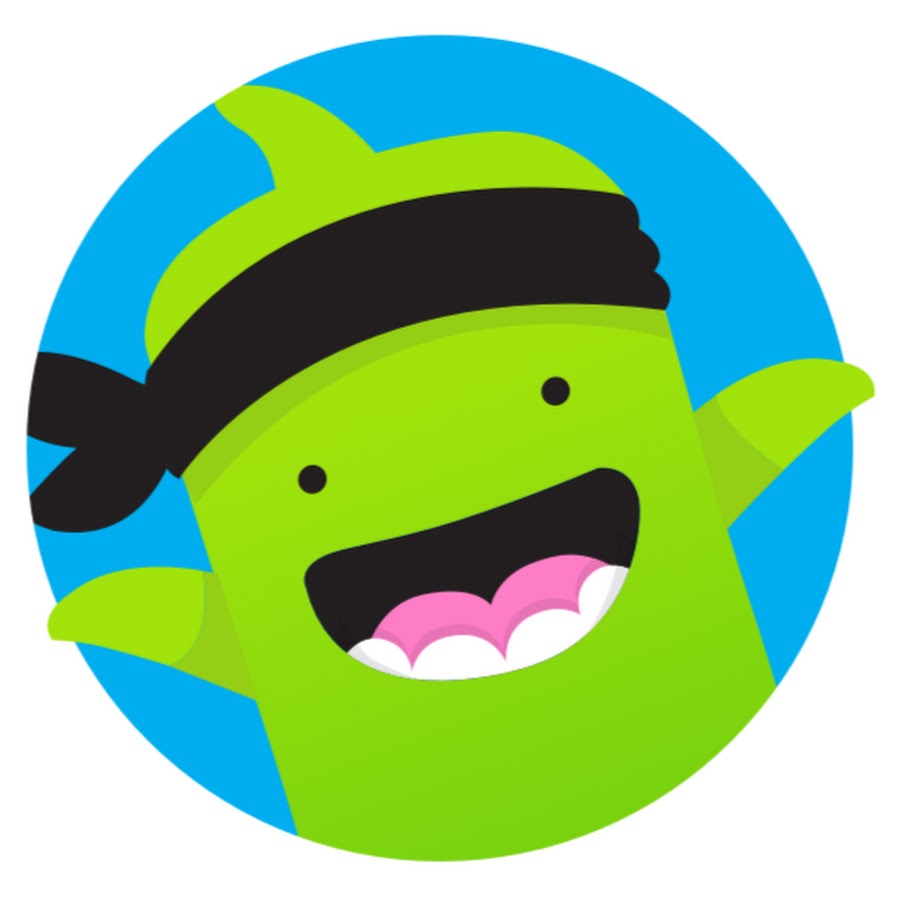 Congratulations to the following students who have reached 400 Dojos:
Teddy R
Congratulations to the following students who have reached 300 Dojos:
Billie B, Harrison F, Kanata N, Roman S, Teddy R and Thomas M
Congratulations to the following students who have reached 200 Dojos:
Amelia S, Avery C, Brodie C, Jala C, Kade W, Leo D, Lucas R, Nusaibah M, Ruben D, Scarlett G, Sophia W, Summer B and Teddy R
Congratulations to the following students who have reached 100 Dojos:
Charlotte C, Julius M, Lilly F and Zuri T
P&F
P&F Meeting Minutes
Please see the link below for the September P&F Meeting Minutes.
Canteen News
| | |
| --- | --- |
| Monday | |
| Tuesday | |
| Wednesday | Barbara McGregor |
| Thursday | HELP PLEASE |
| Friday | Tracey Waind, Karen Reincastle and HELP PLEASE |
Parish News
General Information