Newsletter - Term 3 Week 6
Calendar
Term 3 Week 7
Mon
28 August

KM Club - 8:20am to 8:50am

Whole School Prayer - Hosted by Kinder Faith

ICAS - Mathematics - 9:00am - 10:00am

Tue
29 August

NRL - 2023 Primary All Schools Cup - Selected Students -9:00am - 2:00pm

Wed
30 August

KM Club - 8:20am to 8:50am




Kindergarten Excursion to the Glasshouse - 'Hiccup' - 12:00pm - 2:00pm

Thu
31 August

Paul Wilson Cup and Diocesan Netball Challenge - Year 6 and selected Year 5 Students - Bus will depart school at 8:30am

Year 2 Mass at the Chapel - 10:15am to 11:00am

Aggies Connects - Come Play With Me 0-5Yrs (in the hall) - 2:15pm to 3:00pm




Fri
1 September

Father's Day breakfast from 8:00am - All welcome

KM Club - 8:20am to 8:50am

Aggies Connects - Come Play With Me 0-5Yrs -

cancelled due to Father's Day breakfast

Father's Day Blessing - 9:00am - Hall - All welcome

Assembly - 2:20pm - Hall - All welcome

P&F Spring Fling at Hello Sailor - 6:00pm
4 - 9 Sept

St Agnes' celebrates Catholic Schools Week

Wed 6 Sept

Grandparent Liturgy - 9:00am to 9:45am

Catholic Schools Week Activities - 9:45am to 11:00am

Creative Arts Spectacular Rehersals - 10:00am to 2:30pm

BYO Family Picnic Lunch - 11:00am to 11:40am

Thur 7 Sept

Creative Arts Spectacular Rehersals - 9:00am to 3:00pm

Whole School attending Creative Arts Spectacular Rehersals - 11:45am - 1:40pm

Creative Arts Spectacular Rehersals - 9:00am to 3:00pm

Creative Arts Spectacular Night - 7:00pm to 8:30pm - tickets available on line

Fri 8 Sept

Staff Spirituality Day/Pupil Free Day - School closed (Unfortunately No Child Minding)

Mon 11 Sept

Staff Professional Learning Day/Pupil Free Day (Child Minding Available)

Mon 18 Sept

Year 5 depart for Camp - Great Aussie Bush Camp

P & F Meeting

Wed 20 Sept

Thur 21 Sept

Last day of Term 3 for students

Fri 22 Sept

Staff Professional Learning Day/Pupil Free Day (Child Minding Available)

Mon 9 Oct

Staff Professional Learning Day/Pupil Free Day (Child Minding Available)

Tues 10 Oct

First day of Term 4 for students
From The Leaders
21st Sunday in Ordinary Time
In Matthew's Gospel this week, Jesus asks his closest friends to tell him who they think he is. The Disciples do not answer his question, instead they tell him who other people say he is. During this time Jesus sees the presence of the Holy Spirit is strong in Peter. Jesus appoints Peter as the first leader - first Pope of the Catholic Church. Peter was not perfect, so leadership in the Church is not about being a perfect person. It is about having the humility to allow God to strengthen, support and work through us.
St Agnes Feast Day
Saint Agnes was raised in a Christian family. Christianity was banned during that time. She was killed at the age of thirteen while the Roman emperor was in charge, on January 21, 304. She refused marriage, stating that she could have no spouse but Jesus Christ. Her suitors revealed her Christianity, which led to her being killed. St Agnes is the patron saint of children, in particular girls. We look to her as a wonderful role model for our school community as a person of faith, hope and love.
We have been acknowledging her feast day in August each year as this is when it has been celebrated in our parish. As of next year, St Agnes' Feast Day will be celebrated as a parish on her actual feast dayin January and early 2024 as a school community.
Happy Father's Day
Whoever the father figure in your life is, it's time to spoil them again, celebrating Father's Day on Sunday 3 September 2023. In Australia, Father's Day falls on the first Sunday of September This is a day that honours Fathers, Father figures, and fatherhood. It's a good opportunity to reflect on the importance of paternal bonds and the influence of fatherhood on society, as well as celebrate your own Dad.
We warmly invite all Fathers, Father figures and Grandfathers to join us from 8:00am next Friday morning for a free sausage sizzle, activities on the bottom oval and a short blessing commencing at 9:00am. A coffee van will also be available for you to purchase drinks from. We look forward to seeing you.
Catholic Schools Week
This year's theme for Catholic Schools Week is 'Walking Together in Faith'. We welcome families to 'walk with us' on Monday 4 September for Whole School Prayer, on Wednesday 6 September for Grandparents and Special Persons Day and on Thursday 7 September for our Creative Arts Spectacular night, for a celebration of our students, staff and families.
Sickness and 'Bugs'
Health advice recommends that children with vomiting and/or diarrhoea should not attend school until at least 24 hours after the last event. This is also to ensure that the illness does not continue to spread among other members of the class or impact the staff as well. We thank you for supporting this important health advice to ensure a healthy environment for all members of our school community.
Creative Arts Spectacular
It has been 4 years since our last Creative Arts Spectacular, and we are so excited to be back at Panthers in 2023!
Tickets went on sale yesterday for our Creative Arts Spectacular. This event is a showcase of our students and their many talents. The evening performance will include dances from our Stage 1, 2 and 3 groups and the Aggies Choir. Our newly formed school band will play some music for you, with the guitar students sharing what they have learnt from Ben Hardman since the start of the year as well. A programme will be available on the night. Students participating in the show do not require a ticket.
We look forward to seeing you there supporting the comeback of this event and a big thank you to the P&F for their financial support this year.
All students will have the opportunity to see the performance at the final dress rehearsal on Thursday 7 September at Panthers. More information in regards to performances, rehearsals and costumes will be shared soon via the Compass App.
The Prayer Box
Next week, as part of Catholic Schools week celebrations at St Agnes' Primary we will be sharing class prayer boxes with our families (or prayer bears in Kindergarten and Year 1). In these boxes and bags are resources and suggestions for ways to pray in your home. Please take time to sit with your child as this resource is brought home for two or three nights to each family. We hope as many families as possible have this opportunity throughout the rest of the 2023 school year. Students are asked to record their experience through writing or drawing and for families to upload photos of them using these resources on seesaw.
Deadly Cultural Learning Plans
Sharon Hugo has shared the 'Deadly Cultural Learning Plans' with families of our Indigenous students this week. These plans form a great link between learning, social and cultural goals. Input from families is essential in supporting our students to achieve their potential. Sharon can be available at a time that suits best if you contact her on sharon.hugo@lism.catholic.edu.au. If you are unable to meet in person, please complete as much of the information you can on this document. Thank you for working with us to support your children.
Come Play with Me
Staffing Update
This week we farewelled Mrs Tahlia Molony a little earlier than expected for her maternity leave. We look forward to her returning next week for a special farewell morning tea. Tahlia will be replaced on class by Mr Krysten Jones. Krysten will be taking a break from the Leader of Pastoral Care and Inclusion role and is looking forward to getting back into the classroom. Krysten taught this grade when they were in Kindergarten, so the children are very excited to show him their 'grown up' learning behaviours!
In supporting the move for Krysten, we have created a new role until the end of 2023. Mrs Kate de Bressac has moved to the role of Assistant Principal (Pastoral Care and Inclusion). Mrs Claire Thurlow has been appointed as Acting Assistant Principal (Learning and Teaching). Claire is currently our Leader of Pedagogy and we will be supporting her to ensure a smooth transition into the role. This is a strategic initiative that we discussed with the Catholic Schools Office. These appointments offer the most minimal disruption to classroom learning.
Mrs Rachelle (Shelly) Caslick has supported the Year 5 team, will be leaving us today. We wish her all the best as she moves to her new role working with DCJ.
Welcome Jessica Morrissey - We would like to offer a very warm welcome to Mrs Jessica Morrissey who joins our Support Staff Team. Jessica has been employed under a new position, working in upper primary supporting literacy and numeracy skills. Jessica has been a lovely addition to our staff.
Year One and Year Five Sharing Stories of Jesus!
This week Year 1 Love and Year 5 Love shared their stories of Jesus. It is so wonderful to see the children sharing their learning from Religious Education with each other.
ICAS Updates
ICAS assessments continue next week, with the last assessment in Mathematics. This will be held on Monday 28 August from 9:00am. We once again thank Mrs Kath Brazel for supporting the administration of ICAS this year.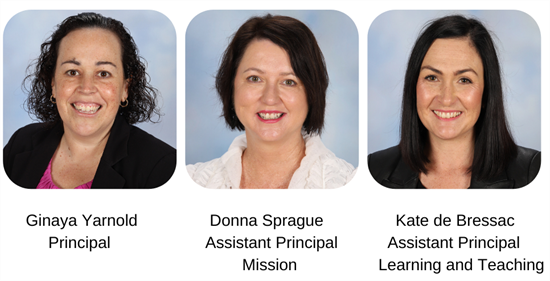 Pastoral Care
Sports News
Primary All Schools Cup and Hasting Zone Soccer and Netball Gala Day
Next week, Aggies students will participate in the League and League Tag, All Schools Cup and the Hasting Zone Soccer and Netball gala days. Permission Notes went out last week via the Compass app. Thank you to all the families who have completed their notes and made payments.
The League and League Tag Gala Day is an opportunity for our league boys and girls to show off their skills. Rugby league is full contact; students will require a mouth guard and boots, headgear is recommended. Thank you to Mr Evans, Mr Brazel and Mrs Stewart, who have been preparing the students for the competition. Travel to and from the venue will be by bus, departing at 9:00am and returning to school for regular afternoon dismissal.
The Hasting Zone Soccer and Netball Gala Day is a Year 6 event, with some Year 5 students attending in the competitive teams. Most students will participate in non competitive, mixed netball or soccer. The gala day is also a chance for the Year 6 students to meet students from other parish schools attending the same high school next year. The gala day will held at the Laurieton Oval, Laurieton. Travel to and from the venue is by bus, departing the school at 8:30am and returning for regular afternoon dismissal.
NSWTA Touch Football Gala Day
Sign-ups for the New South Wales Touch Association (NSWTA) Gala Day have continued through the week. The Gala Day is for any student in Years 3 to 6 who wants to play, regardless of experience. If your child still needs to sign up and would like to participate, please see Mr Wilson or their class teacher to be added to a team. Notes will be issued shortly to students who are nominated to play. The event is at the Tuffin's Lane fields on Thursday, 14 September. Travel to and from the venue will be by bus, leaving school at 9:00am and returning in the afternoon for regular hometime dismissal.
KM Club - House Challenge
Congratulations to Clarence House for taking out the KM Club House Challenge. Over the last three mornings, students from Clarence completed a total of 203 laps. This amounts to about 100 kilometres. Kennedy led the point score on Monday and Wednesday, but the students of Clarence rallied on Friday for the win. Well done, Clarence. The results of the challenge were:
Clarence 203 laps - 101.5 kms
Kennedy 185 laps - 92.5 kms
Flinders 148 laps - 74 kms
Boronia 90 laps - 45 kms
That means that over the past week, we added 313 km to our journey. Amazing!
Cards are starting to come in quickly, and we are rapidly progressing up the coast after a slow start. St Agnes' has passed the Big Banana, and we would like to acknowledge The Gumbaynggirr people, the traditional custodians of the land we are currently passing through. Thanks to all the new students who came down, got involved in KM Club and supported their school house.
We invite all families to join us at the KM Club next Friday, whilst they are at school celebrating Father's Day.
Postive Behaviour Support
For the past two weeks our PBS focus has been on being respectful, responsible, resilient and resolute behaviour in the toilet areas (both toilets and bubblers). The students have been learning about what we do to keep our toilets clean and how we can be responsible and safe in the toilet spaces.
Student Awards
DOJO Awards
Congratulations to the following students who have reached 400 Dojos:
Charlotte M and Joel C
Congratulations to the following students who have reached 300 Dojos:
Utah E, Slayter G, Charlotte M, Brayden W, Hana D, James H, Alexander R, Harper W, Emmett Y and Jaxson F
Congratulations to the following students who have reached 200 Dojos:
Benjamin C, Sharleigh F, Stella G, Willow H, Elsie K, Bryce L, Hadley M, Mia F, Ella R, Mia T, Charlie T, Nate B, Jaxon S, Ella M, Catherine F, Grace J, Nevaeh T, William E, Joseph O, Jonah A, Benjamin B and Micah V
Congratulations to the following students who have reached 100 Dojos:
Archie M
Canteen News
| | |
| --- | --- |
| Monday | Lynne Rangel |
| Tuesday | |
| Wednesday | |
| Thursday | Ros Caldwell |
| Friday | Tracey Waind and Leigh Smith |
P&F
Spring Fling – Friday 1 September – Hello Sailor
Our booking has now been increased - 20 tickets left!!! Get in quick if you have not booked yet!
Book now via this link
Father's Day BBQ Breakfast
We are looking for 10 (non-father/father figures) to help on the Father's Day Breakfast BBQ.
They will be needed between 7:00am - 9:00am (or whatever you can manage) on Friday 1 September. Please email pandfstagnes@gmail.com or call the school office if you can help!
School Disco - SAVE THE DATE
Thursday 19 October, Halloween theme … more details to come!
August P&F Meeting Minutes
Please see below for the Minutes of the August P&F meeting.
At the September meeting, we will be discussing P&F funds and looking at a wish list (from the School Leadership Team, plus suggestions from parents). If you have a suggestion for consideration, please email pandfstagnes@gmail.com by Friday 8 September. Please also see the attached minutes for the monthly Treasurer's Report.
Parish News
General Information