Newsletter - Term 3 Week 5
Calendar
Term 3 Week 6
Mon
21 August

KM Club - 8:20am to 8:50am

Whole School Prayer - Hosted by 4 Faith

ICAS - Science - 9:00am to 10:30am




P&F Monthly Meeting - 5:45pm to 6:45pm

Tue
22 August

ICAS - Spelling - 9:00am to 10:30am




Wed
23 August

KM Club - 8:20am to 8:50am




Thu
24 August

Come Chat With Me - 9:00am to 9:30am




Year 3 Mass at the Chapel - 10:15am to 11:00am

Aggies Connects - Come Play With Me 0-5Yrs (in the hall) 2:15pm to 3:00pm




Come Chat With Me - 2:30pm to 3:00pm

Fri
25 August

KM Club - 8:20am to 8:50am




Aggies Connects - Come Play With Me 0-5Yrs (in the hall) 8:45am to 9:15am




St Agnes' Feast Day Mass - 12:30pm to 1:30pm - All Welcome
Mon
28 August

Tue
29 August

NRL - 2023 Primary All Schools Cup - Selected Students

Wed
30 August

Kindergarten Excursion to the Glasshouse - Hiccup

Thur
31 August

Paul Wilson Cup and Diocesan Netball Challenge - Year 6 and selected Year 5 Students

Fri
1 September

P&F Spring Fling at Hello Sailor - 6:00pm

Wed
6 September

Grandparent Liturgy - 9:00am to 9:45am

Catholic Schools Week Activities - 9:45am to 11:00am

Creative Arts Spectacular Rehersals - 10:00am to 2:30pm




BYO Family Picnic Lunch - 11:00am to 11:40am

Thur
7 September

Creative Arts Spectacular Rehersals - 9:00am to 3:00pm

Creative Arts Spectacular Night - 7:00pm to 8:30pm

Friday
8 September

Staff Spirituality Day/Pupil Free Day (Unfortunately No Child Minding)

Monday
11 September

Staff Professional Learning Day/Pupil Free Day (Child Minding Available)
From The Leaders
20th Sunday in Ordinary Time
Matthew's message in this Sunday's Gospel tells us about Jesus healing a girl, whose mother was a Canaanite woman who believed in Jesus. Jesus recognised both her faith and her love for her daughter, so he healed her even though she was not a Jew. This story emphasises that God does not always answer our prayers in the way we expect. He may not always give us what we want, but he will always give us what we need. It also focuses on not letting our prejudices affect the way we treat other people. We are called on to accept and welcome all as our sisters and brothers in Christ.
St Agnes Feast Day Mass
St Agnes (Saint Agnes of Rome) is the patron saint of both our school and parish. She is known as the patron saint for young girls. Saint Agnes was martyred at the age of 12 or 13, for her strong belief in God, and denied all requests for marriage. She is often pictured with a lamb, symbolising her purity. Saint Agnes is a strong example of faith, as she sacrificed her life rather than betray or speak poorly of the Lord. She is one who completely dedicated her life to Christ.
We celebrate her feast day next week on Friday 25 August with a whole school Mass at 12:30pm. Please join us for this celebration and a picnic lunch afterwards.
Kindergarten loved learning about patterns!
It was a delight to visit Kindergarten Mathematics this week and hear them discussing the patterns they were making. We discussed AB patterns, AABB patterns, AAAB patterns and how they were represented with colour!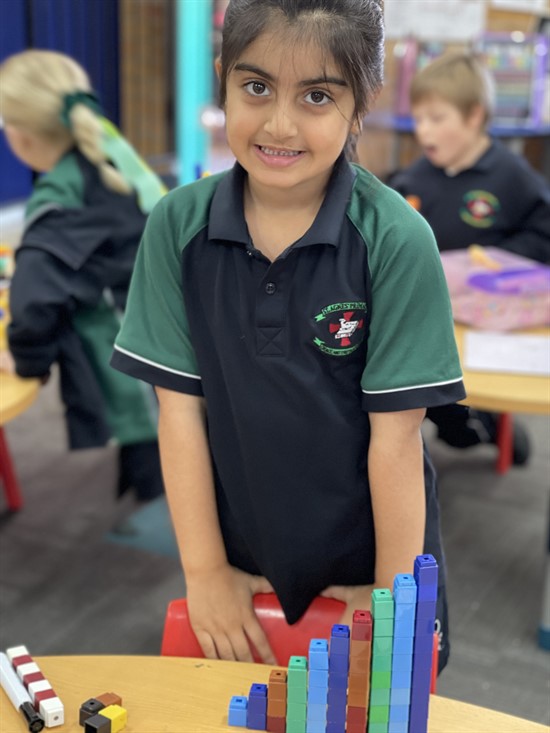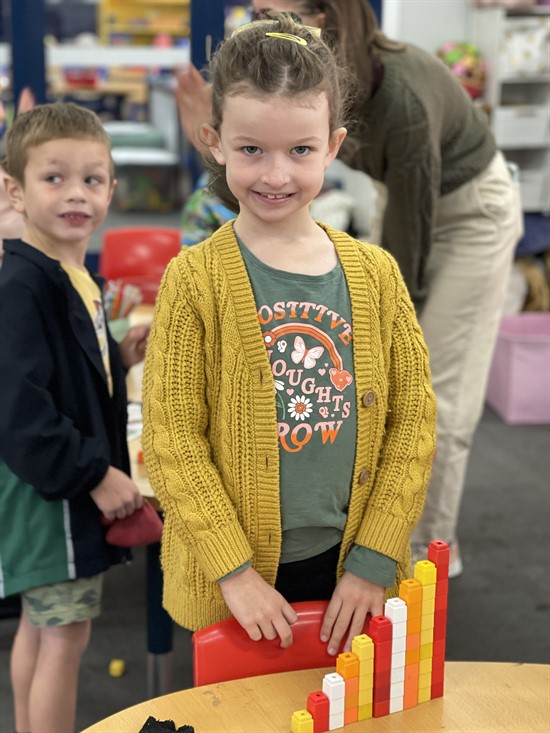 Catholic Schools Week
St Agnes' Primary School will be celebrating Catholic Schools Week in Week 8 this term. This year's theme is 'Walking Together in Faith'. Our Catholic school is a place where we learn to have faith in ourselves, in each other and in God. May we learn to have hearts of compassion, trust and love in everything we do, as we journey together in faith.
Week 8 will provide opportunities for families to join with us in prayer, to participate in learning and witness the talents of the amazing students we work with. The week will start as we always do; in whole school prayer on Monday morning at 9:00am. Our Grandparents and Special Persons Liturgy, and invitations to be a part of classroom learning and an Art Gallery Exhibition as well as a BYO picnic for Lunch One will be held on Wednesday 6 September. Some of the creative talents of our students will then be showcased on Thursday night, 7 September, to cater for family members who have travelled long distances for our Special Persons Celebration.
Year 6 Timeline Learning!
Year 6 have been working hard on their learning about timelines. They have created a timeline of their life that they are required to present to the class. As part of this project, they have had to consider the best ways to present information to an audience. Well done Year 6, they look amazing!
Deadly Cultural Learning Plans
Next week Sharon Hugo will be sharing the 'Deadly Cultural Learning Plans' with families of our Indigenous Students. These plans form a great link between learning, social and cultural goals. Input from families is essential in supporting our students to achieve their potential. We welcome the opportunity for parents or carers to come in to complete these with Sharon (our IEW), but appreciate how busy you are. Sharon can be available at a time that suits best if you contact her on sharon.hugo@lism.catholic.edu.au. If you are unable to meet in person, please complete as much of the information you can on this document. Thank you for working with us to support your children.
Caritas
On Monday our Year 6 staff and students hosted a visit from Caritas representatives. Terry Timbs, from the St Agnes' Parish brought Chris Nolan from Caritas, who is based in Sydney to thank our school for our contribution through our Chick-itas initiative in Term 1. Both Chris and Terry expressed their gratitude for the wonderful generosity and support offered to the initiative providing funds for Priscilla and the purchase of chickens to provide an income for families in Zimbabwe. They expressed their appreciation for the work of our student Leaders and our school community. Chris and Terry answered questions Year 6 had regarding the Caritas Organisation and how their efforts could make an impact on the lives of those less fortunate in our world.
Come Pray With Me
Thank you to our families who engaged with our Come Pray With Me initiative. Students who joined us were excited to show their families ways we pray at school and learn about how they can share these ideas at home. In Catholic Schools Week (Week 8) we will send home prayer boxes for students to share with their families. We hope you enjoy this experience with your child and look forward to seeing the journal entries entered by each family regarding their time with the prayer kit.
Matildas
On Wednesday our students demonstrated their passion for the Green and Gold. It was great to see their excitement on so many levels..for soccer, for women's sport, for Australia and for an Aggies dress up day!! Congratulations to the Matildas for their amazing efforts.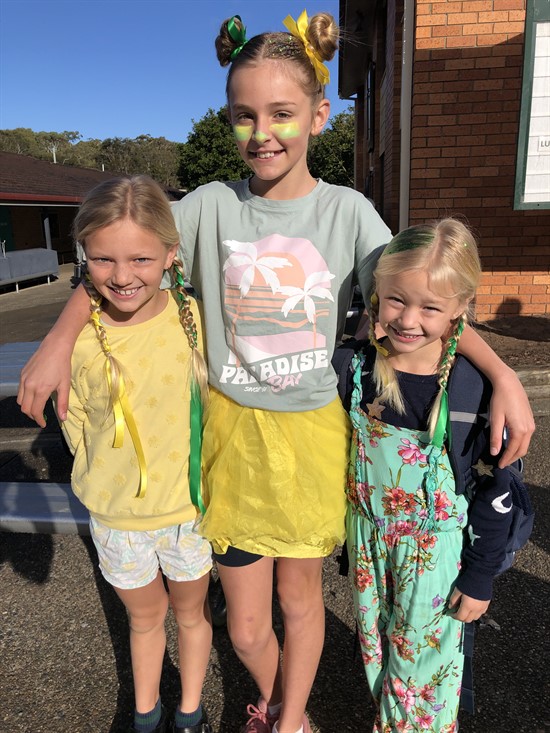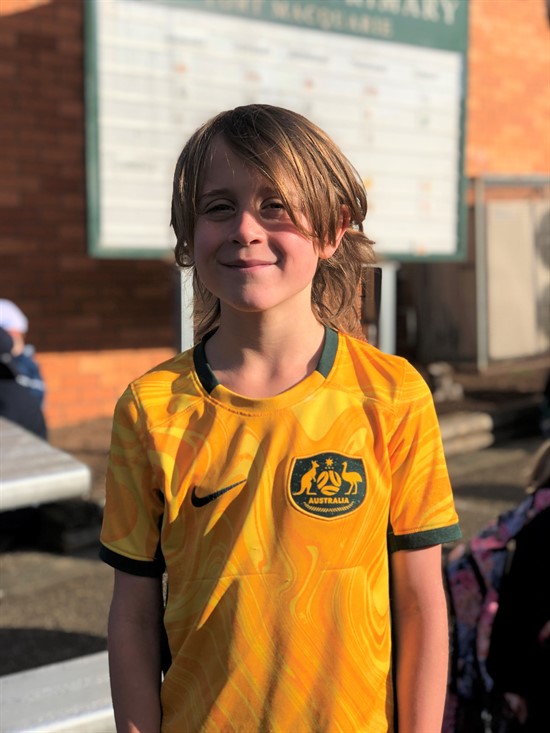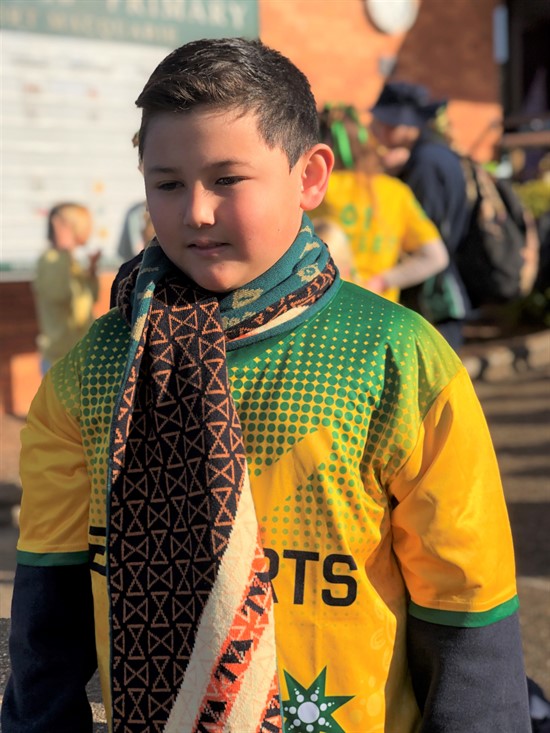 ICAS Updates
The ICAS assessments continue next week. Please see the schedule of times below. We thank Mrs Kath Brazel for supporting the administration of ICAS.
ICAS Science - 21 August 2023
ICAS Spelling - 22 August 2023
ICAS Mathematics - 28 August 2023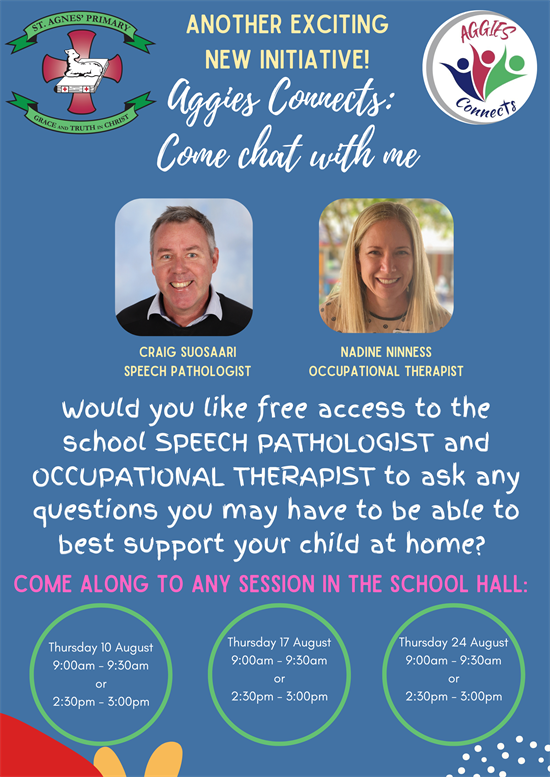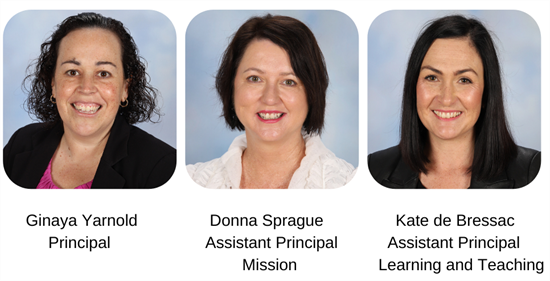 Pastoral Care
The Benefits of Parental Controls
While no parental control tool is perfect, it's equally important to teach your child good online safety habits. The internet-connected devices in your home offer numerous benefits, but it's crucial to understand the associated risks and protect your family.eSafety provides a helpful guide for parents to understand parental controls and their role in keeping children safe online. They offer a short video introducing various parental control options and recommend settings that suit your family's needs.

Streaming services
Streaming services like Netflix, Disney, Stan, and Amazon Prime offer parental controls to prevent children from accessing inappropriate content. YouTube Kids provides family-friendly content with features to set time limits on apps and disable search functionality. Among catch-up TV platforms, ABC iView stands out by offering parental filters and controls, along with a dedicated platform for younger viewers called ABC KIDS iView.

Apple Devices
For Apple devices like iPhones, iPads, and iPod touches, you can utilise Apple's parental controls. With Content and Privacy Restrictions in Screen Time, you can block or limit specific apps and features on your child's device. You can also restrict explicit content, purchases, downloads, and privacy settings.

Android tablets and smartphones
For Android tablets and smartphones, you can set up parental controls through Google Play to restrict the content your child can download or purchase.

Finding the right balance with parental controls is key. It starts with open conversations and setting clear expectations about monitoring online activities and modelling healthy behaviour. It's about protecting your child while allowing them the freedom to explore and learn online. Gradually introducing age-appropriate freedoms is important. Collaborating with other parents and teaching your child essential online safety skills together can be beneficial. Ultimately, being a responsible and caring parent means prioritising your child's online wellbeing.

Parent Resource
1. esafety Getting started with parental controls in social media, games and apps
2. esafety Getting started with parent controls on devices and accounts
Sports News
Primary All Schools Cup and Hasting Zone Soccer and Netball Gala Day
Permission notes went out this week for the Primary All Schools Cup (league and league tag) and the Hasting Zone Soccer and Netball Gala Day (incorporating the Paul Wilson Cup and Diocese Netball Challenge).
This semester we have switched to a paperless system for notes. For families new to the system, parents and carers receive an alert via the Compass app that a permission note has been issued for their child. The permission note, medical form and payment are then completed online. If you need assistance with the Compass app, please drop by the school office, and the ladies at the front can help.
The All Schools Cup is on Tuesday 29 August, and the Zone Soccer and Netball Gala Day is on Thursday 31 August.
Diocesan Athletics
On Tuesday, 11 Aggies students travelled to Coffs Harbour for the Diocesan Athletics Carnival. The weather was again perfect for competition and our students gave it their all on the day and should be proud of their achievements making it to this level of competition. Congratulations to the following students:
Harley Cadden - 2nd 11yrs long jump, 3rd 11yrs 100m, 4th 11yrs 200m
Indigo Duncan - 2nd Snr 1500m, 3rd Snr 800m
Oliver Walters - 3rd 11yrs 200m
Spencer Galafassi-Barnes - 6th Snr Boys 1500m
Indigo, Harley and Oliver will now progress to the Polding Athletics Carnival on Friday 13 October at Homebush in Sydney. We wish our athletes all the best as they prepare for the next level of competition.
NSWTA Touch Football Gala Day
Sign-ups for the New South Wales Touch Association (NSWTA) gala day was held today. The event is at the Tuffin's Lane fields on Thursday 14 September. The gala day is for any student in Years 3 to 6 who want to play, regardless of experience. Travel to and from the venue will be by bus. The bus will leave school at 9:00am and return in the afternoon for regular hometime dismissal.
If your child missed the sign-up day and would like to participate, please see Mr Wilson to be added into a team. Stay tuned for a Compass Event if your child has elected to participate.
KM Club
We continue to get runners for the KM Club. It is great to see students from all grades down on the bottom oval in the morning doing physical activity. Some students run, while others walk the course. We want to acknowledge and pay our respects to the Dunghutti people as we pass through their land.
We are moving closer to our first landmark, The Big Banana in Coffs Harbour. Next week is the KM Club House Challenge. For every lap a student completes through the week they will receive a point for their sporting house. Tallies will be kept, and the winning house will be announced. Thank you to the Year 6 Leaders for their continued organisation and to Mrs Wilson, Rinnie White, and Aunty Michelle for helping make our tracking visual of St Agnes' at the front of the school.
Postive Behaviour Support
Today, St Agnes' Primary School is participating in the National Day of Action against Bullying and Violence (NDA). The NDA is Australia's key bullying prevention initiative for schools, connecting schools and communities to implement workable solutions to prevent bullying. In raising awareness, all children received an orange wristband to wear for the day. Planning for a safe and supportive school community requires a whole-school community approach. Whole-school responses to bullying prevention builds positive and supportive school environments by incorporating strategies for intervention at all levels, inclusive of students, teachers, parents and carers.
Three key characteristics outlined in the national definition of bullying distinguish bullying behaviours from other negative behaviours which are not bullying. The key characteristics of bullying include:
power imbalance

deliberate intent to cause harm, and

ongoing and repeated behaviour
While the following behaviours are not bullying, they may still be serious and require intervention at home and at school:
arguments and disagreements (where there is no power imbalance)

single acts of social rejection or unkind behaviour, or

isolated incidents of aggression, intimidation or violence.
It is important for our entire school community, including our staff, parents, carers and students to have a clear understanding of the definition of bullying to be able to distinguish these behaviours from peer aggression, and correctly identify and respond to incidents of bullying.
For more information look at the the following links:
https://bullyingnoway.gov.au/support-and-advice/for-families
Student Awards
DOJO Awards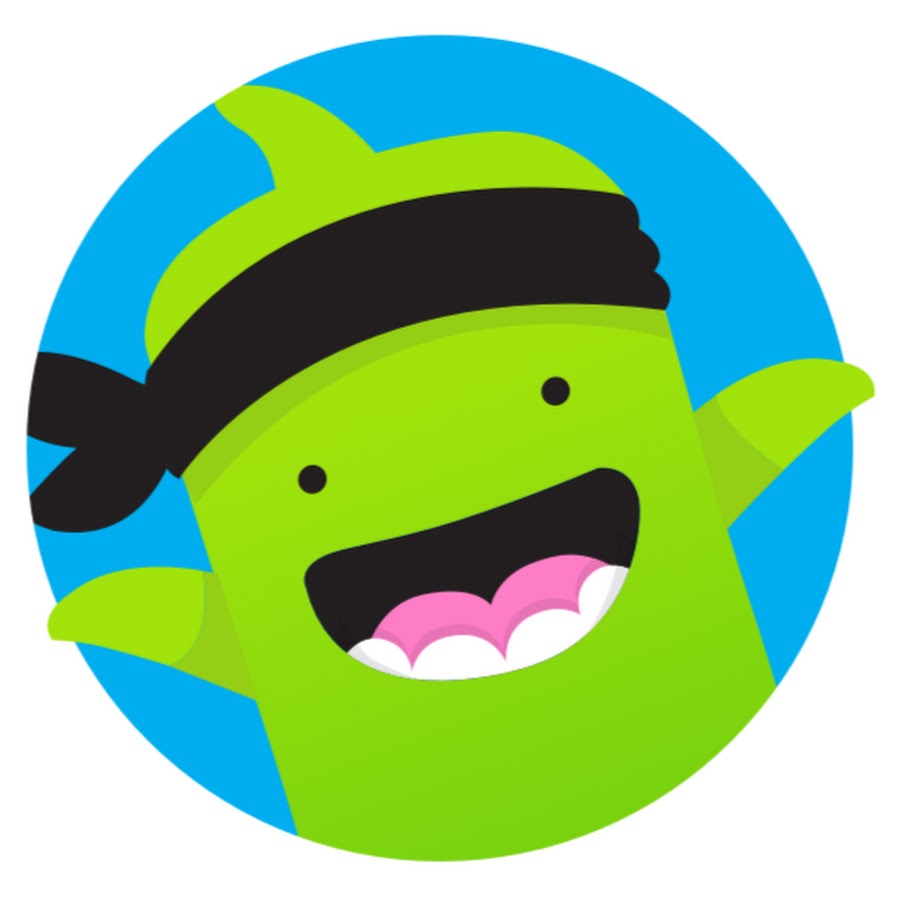 Congratulations to the following students who have reached 300 Dojos:
Angus S, Arie F, Armani D, Cody N, Eli M, Ethan W, Eva D, Ivy C, Ivy G, Jada U, Lucas K, Nicholas M and Rory C
Congratulations to the following students who have reached 200 Dojos:
Addison E, Akshara S, Amber Sage N, Ardan B, Aurora P, Ava C, Beau J, Charlee C, Charlie R, Chase O, Chloe C, Clementine H, Dean C, Dreigh T, Emme C, Enzo W,
Evie S, Florence H, Harrison P, Hudson S, Francis B, Isabelle F, Jack F, Jannah S, Jenson T, Joshua S, Kane C, Kasper S, Layla M, Lilyana P, Macey S, Mila S, Mitchell H, Olivia C, Piya V, Reagan C, Ruby H, Sally-Ann V, Sam B, Sam C, Thomas B, Tyler C, Wyatt B and Zane B
Congratulations to the following students who have reached 100 Dojos:
Antonia M, Aria S, Aviana S, Christopher B, Connor B, Dominic O, Henry E, James R, Kalari D, Maddison E, Madisson C, Max S, Michael L, Oliver W, Parker B, Parker B, Peyton T, Riley R, Ruby D, Van M and Xavier D
Assembly Awards
Congratulations to the following students who received an award at today's assembly:
Amelia S, Armani D, Ava R, Aylah H, Banjo T, Bella R, Charlee C, Charlotte E, Daniel L, Demi G, Elsie K, Emilia A, Emmett Y, Evie C, Faraday W, Grace J, Harry M, Indi F, Isiah D, Jada U, James R, Jho'Arryn C, Kade W, Kaiden D, Kirrily J, Lachlan H, Liam J, Marcus G, Mia T, Michael L, Nathan K, Raquel R, Sienna V, Sophia F, Stella D, Storm T, Theodore R, Tiger Lily R, Tyson E, Utah E, Van M, Xanthiah G and Xavier D
Canteen News
| | |
| --- | --- |
| Monday | Jo McLaren |
| Tuesday | |
| Wednesday | Antonia Mullen |
| Thursday | Ros Caldwell |
| Friday | Daniel Stewart, Veronica Swadling and Sarah Taylour |
P&F
August P&F Meeting
On Monday 21 August from 5:45pm to 6:45pm in the staff room (access is via the staff carpark).
All parents and carers are very welcome to attend.
Spring Fling – Friday 1 September at Hello Sailor
Have you purchased your tickets to the Spring Fling?
Book now via this link .
Please note: We will be advising the venue of our expected numbers over the weekend. Tickets will only be available beyond this weekend if space remains at Hello Sailor. Get in quick so you do not miss out!
Parish News
General Information