Newsletter - Term 3 Week 1
Calendar
Term 3 Week 2
Mon
24 July

Whole School Prayer - Hosted by 5 Faith

Parent Teacher Interviews - 7:30am to 5:30pm (bookings via Compass)

Tue
25 July

Parent Teacher Interviews - 7:30am to 5:30pm (bookings via Compass)

Year 3 - Sacrament of Confirmation workshops - 3:30pm to 4:30pm

Wed
26 July

Zone Athletics Carnival at St Joseph's Regional College - Bus departs school at 8:30am and returns in time for afternoon buses

Year 3 - Sacrament of Confirmation workshops - 3:30pm to 4:30pm

Parent Teacher Interviews - 7:30am to 5:30pm (bookings via Compass)

Thu
27 July

Year 6 Liturgy at the Chapel - 10:15am to 11:00am

Year 5 - MacKillop College Performing Arts Spectacular

Aggies Connects - Come Play With Me 0-5Yrs (in the hall) 2:15pm to 3:00pm




Parent Teacher Interviews - 7:30am to 5:30pm (bookings via Compass)




Fri
28 July

Aggies Connects - Come Play With Me 0-5Yrs (in the hall) 8:45am to 9:15am




Year 3 - Confirmation Reflection Day at The Youth Hub

Parent Teacher Interviews - 7:30am to 5:30pm (bookings via Compass)



Monday
31 July

Tuesday
1 August

Out of Uniform Day - NAIDOC Week




Friday
8 September

Staff Spirituality Day/Pupil Free Day

Monday
11 September

Staff Professional Learning Day/Pupil Free Day

Friday
22 September

Staff Professional Learning Day/Pupil Free Day




Monday
9 October

Staff Professional Learning Day/Pupil Free Day
From The Leaders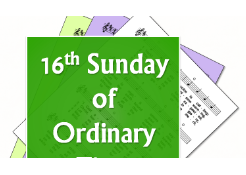 This Sunday's Gospel (Matthew 13:24-43) has Jesus talking about plants again, as in last week's. This time the focus is on weeds. In this parable, the farmer sowed good seed in the soil hoping for a plentiful harvest of wheat. An enemy came and planted weeds right where the farmer planted good seeds. The wheat and weeds grew right next to each other. It was difficult to tell the difference.
All of our hearts look the same. When we let God's Word into our hearts, we grow to be like the wheat in the Gospel. But if we allow other things to rule our heart instead of God's Word, there is no room for His Word to grow. When we can see the weeds, such as wanting wealth, fame, to always get our way, tempted to be angry or selfish, we need to make better choices. The Word needs to be planted deep in our hearts, in good rich soil, being who God wants us to be.
Compass
- Communication
Thank you to all of our parents for the way in which you have engaged so quickly with the new Compass app. We have a large number of parents connected already and this allows for effective communication between home and school. We acknowledge that you have been sent a lot of information this week, but we were holding some of this from the end of last term, so that the new Compass app could be a more efficient way to gather permissions. I would like to offer a huge thank you to our beautiful Office staff that have all been engaged in such a massive learning experience, having to learn many new processes and systems. We are so grateful for the amazing work they do every day and ask you for your patience as they learn and understand new ways.
- Payment Plan
As payment for events is now coordinated through Compass, your very first payment will take a little longer as you will be setting up your account. Card information is then held within the app to make for a faster process in the future.
In terms of big events (e.g camp), parents have two different options when it comes to paying:
Immediate payment in full

Setting up a Payment Plan. A payment plan is very similar to an 'Afterpay' scenario. It is also important to know that once a payment plan is set up, the card details cannot be changed for the duration of the payments. If a payment has bounced, Compass will try on two more consecutive days before the payment plan defaults. If your card expires during the dates of the scheduled payment plan, you will need to contact the school for it to be updated manually from our end.
If you have any further questions regarding payment for events, please contact Kirrily Pollock in the school office.
- Student Absences
The easiest and most streamlined way to complete absentee notes in Compass is to wait until you receive the notification on the day your child is away. This way, you simply click on the link and it takes you straight to a very simple form that is easily completed on your phone or mobile device. Earlier notification is possible, however, involves a more time consuming seven step process:
- Click on 'More'
- Click on 'Open in Browser'
- Click on 'Add Attendance Note'
- Click on green plus sign 'Add'
- Click on 'Attendance Note'
- Enter all necessary details
- Click 'Save'
We ask that parents do not add absentee notes for partial absences. We will keep with the normal sign in/sign out process at the front office, when students arrive late or are collected early.
Semester One Reports
A reminder that all student reports have been published and are available on the Compass app. If you are having any difficulties accessing this information, please contact the Office for support. The teachers have put many hours into writing these important legal documents for your child and we hope you take the time to discuss the report with your child before the upcoming Conferences next week.
Parent Teacher Learning Conversations
We remind all families that our learning conversations are next week. You can book your conversation with your child's teacher on Compass. Students in Years 3-6 attend the learning conversation with their parents. To support you in thinking about what you would like to share, we have created a conversation prompt for you to talk to your child about over the weekend. It is based on the concept of 'Glowing and Growing'. We will send home a copy for each family.
2023 Non-Government Schools Census Collection Notice
The Australian Government Department of Education (the department) would like to advise all staff, parents and guardians that it will collect certain information about your school, its staff and student body as part of the 2023 Non-Government School Census collection (the Census).
The Sacrament of Confirmation confirms the person who has been baptised; and at Confirmation, candidates receive the gift of the Spirit of Jesus.
When we are confirmed, we are drawn more deeply into the mission of Jesus as his disciple.
Candidates choose a saint for a Confirmation name to act as a role model; someone who has lived a good Christian life and been acknowledged by the Church and named as a saint. Students had the opportunity to participate in workshops with their parents / carers this week or next week in preparation for this sacrament. We look forward to welcoming Bishop Gregory Homeming to confirm the candidates on Monday, Tuesday and Wednesday of Week Three.
Principal Awards - Semester One
It was a great pleasure to read the 546 student reports during the end of Term One. Our families should be so proud of the wonderful effort that our students are making to improve their learning and behaviour. At the assembly this afternoon, we recognised children that have received the Principal Award for Semester One. Congratulations to the following children:
ICAS Bookings
ICAS begins in Week Four for any families who are interested in booking their child in. These are purely optional and occur on various dates during Term 3. Children from Year Two are offered the opportunity of entering all assessments but ICAS Writing. If your child is interested in entering these competitions, please return the tear off slip to the office by Monday 31 July 2023. This year payment is made online via this link - our school code is BGE950. Please note that all entries are to be placed online by Monday 31 July 2023 and no late entries will be considered.
Our Future Parent Body - An Important Choice
On Monday this week, we were lucky enough to have Janita Thomson (Lead, Family Partnership) from the Catholic Schools Office present two sessions to our parent community. Janita had also run previous sessions last year with our P&F via Zoom. These sessions outlined information about two different options for parent bodies within schools. Information has been communicated through the previous two newsletters about the two different groups: Including similarities and differences. Janita explained that the governing body documents are currently still in draft form, but can be provided to schools once final DLCSL Board endorsement has been given. A copy of the presentation from Monday has also been provided below for any parents that were unable to attend.
As parents arrive next week for the Parent/Teacher Conferences, a one page summary document will be handed out and an opportunity for you to answer a question to show what you are thinking about the two different models.
Parents will be able to choose from the following selections:
The School Community Forum

The School Community Group

I would like to wait to give my preference until I read the governing documents of both models. Please email them to me.

I am unsure because I feel like I don't know enough

I don't have a preference.
This survey will be managed by Janita and she will share the results of this feedback with our school leadership team and at our next P&F Meeting. The next P&F meeting will allow another opportunity to ask questions and learn more as we work through the discernment process. We look forward to hearing parent voice from our community.
NAIDOC Week Celebrations
On Monday 31 July, the St Agnes' First Nations students will be hosting the whole school prayer in celebration of our NAIDOC Week activities. The Cultural group will host a morning tea for Local Elders groups after prayer. On Tuesday, 1 August, students will participate in class based cultural activities, including music, dance, drama and art. Students are invited to come out of uniform on this day for a gold coin donation. The money raised will be donated to the indigenous Literacy Fund.
Monday 31 July:
9:00am - NAIDOC prayer hosted by the Indigenous students
10:15am - Morning tea for Elders & Indigenous families
11:45am - Indigenous students workshops hosted by Strong Spirit Services
Tuesday 1 August:
Whole school Out of Uniform day - gold coin donation
Whole school NAIDOC celebrations
Newsletter Trial
Over the past twelve months, we have been discussing various options of newsletter improvement with our families. This feedback has led to many changes which has included the introduction of a daily newsletter feed on our areas of focus and also areas of school improvement. Continual feedback from discussions with families along the way also altered how these publications were shared with families. Initially, these were shared via Schoolzine and email and feedback from families meant we changed to send the daily process via the app and also include them in the weekly structure so that families that wanted to see a 'One stop shop' could see it all in one location.
Given the change to Compass and the amount of notifications that families are currently receiving, we have decided to trial a new option to begin next week. This will involve the daily newsletters returning to the Friday release with the newsletter. We are hoping that this also allows us to capture more photos than what we are currently able to include. Once again, we welcome your feedback about the change after the first new edition next week. Over this time, you have seen that we have continued to adjust and improve to meet the needs of as many families as possible.
Come Pray With Me
Aggies Connects is pleased to introduce 'Come Pray With Me'. In a similar manner to "Come Read With Me' earlier in the year, we invite parents and carers to join us to learn more about prayer life.
New Staff - Teacher Assistants
After a very competitive recruitment process, we are so very pleased to announce the appointments of Mrs Angela Martin (Year One) and Mrs Niki Gibbons (Year Three). We know that you will join with us in welcoming them to our beautiful community. Both Angela and Niki were members of our Casual staff prior to these appointments.
New Students
We would love to welcome the following students to St Agnes' who had their first day with us on Monday. Welcome to Melissa Maurer, you have settled into Aggies so beautifully. We also welcome back Eli Burnett to our school. Eli was previously with us back when he was in Kindergarten. We hope you continue to build lovely new friendships and connections with us.
Pupil Free Day
As part of normal school operations, the government allocates days for school staff to gather for professional learning opportunities when no students are present. This allows schools to work through important learning material with staff and also focus on professional learning that meets the needs of the whole school improvement processes. As part of this process, schools are required to give four weeks notice to families for all future Staff Professional Learning/Pupil Free Days. We have received some feedback from our families that you would also like some more advance information about when our dates are scheduled for. We are happy to outline additional information to assist with your planning.
- Information from the Catholic Schools Office Director and Learning Services Team
The Leadership Team of the Catholic Schools Office, acknowledges the wonderful work schools are currently engaging in through the professional learning modules required by staff to teach the new curriculum. We also acknowledge how tight the time frame is and the amount of change, particularly in English.
As such, all primary schools have been granted two additional Staff Professional Learning Days/Pupil Free Days in 2023 specifically dedicated to:
● Professional Learning in the syllabus.
● DoE Professional Learning Micromodule Update, K-2 or 3-6 Syllabus
● Training in Dibels and/or Probe for the new evidence based assessment approaches
● Co-planning in teams to review K-2 implementation to date
● Co-planning in teams to learn about and plan for the 3-6 implementation
We understand that this surprise news to us, may also have a flow on impact to families. As normal, we will offer babysitting facilities for any families that are unable to make arrangements for their children to be cared for. The only day we are unable to offer this is the Staff Spirituality day (Friday 8 September) as the school is officially closed on this day with all staff offsite.
Staff Professional Learning/ Pupil Free days - Important dates for your diary:
Term Three 2023
- Friday 8 September 2023 (Unfortunately, No babysitting available)
- Monday 11 September 2023 (Babysitting available)
- Friday 22 September 2023 (Babysitting available)
Term Four 2023
- Monday 9 October 2023 (Babysitting available)
- Friday 15 December 2023 (Babysitting available)
This will mean that the last day of school for students in 2023 will be Thursday 14 December. As outlined above, we will offer babysitting for families that require it on Friday 15 December 2023.
Car Park Safety
Thanks so much to all of our carpark users who have made great progress in not parking across the pedestrian crossing at the entrance in the afternoons during car park pick up.
Could we remind families who use this service in either the morning or afternoon that drivers are to remain in their cars and children get in and out. Parents getting out of the car to assist their children in getting in and out slows up the process and it is a requirement of the contract.
Come Play with Me
It was great to reconnect with our 0-5 year olds during the 'Come play with me' sessions on Thursday afternoon. We were delighted to see so many families at our very first Friday session this morning. These sessions run each week, so all families are welcome to attend one or both experiences.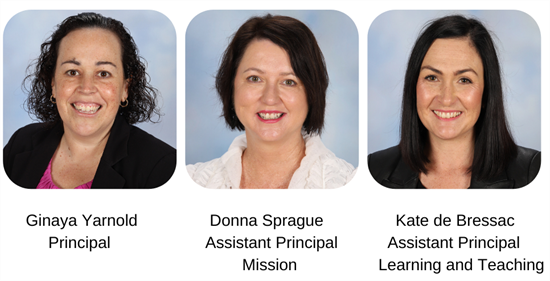 Pastoral Care
Nationally Consistent Collection of Data on School Students with Disability (NCCD)
Every year, all schools in Australia participate in the Nationally Consistent Collection of Data on School Students with Disability (NCCD). The NCCD process requires schools to identify information already available in the school about supports provided to students with disability. These relate to legislative requirements under the Disability Discrimination Act 1992 and the Disability Standards for Education 2005, in line with the NCCD guidelines (2019).
Information provided about students to the Australian Government for the NCCD includes:
year of schooling

category of disability: physical, cognitive, sensory or social/emotional

level of adjustment provided: support provided within quality differentiated teaching practice, supplementary, substantial or extensive.
This information assists schools to:
formally recognise the supports and adjustments provided to students with disability in schools

consider how they can strengthen the support of students with disability in schools

develop shared practices so that they can review their learning programs in order to improve educational outcomes for students with disability.
The NCCD provides state and federal governments with the information they need to plan more broadly for the support of students with disability.
The NCCD will have no direct impact on your child and your child will not be involved in any testing process. The school will provide data to the Australian Government in such a way that no individual student will be able to be identified – the privacy and confidentiality of all students is ensured. All information is protected by privacy laws that regulate the collection, storage and disclosure of personal information. To find out more about these matters, please refer to the Australian Government's Privacy Policy
Further information about the NCCD can be found on the NCCD Portal.
If you have any questions about the NCCD, please contact the school Leader of Pastoral Care and Inclusion Krysten Jones pmaca-inclusion@lism.catholic.edu.au.
Social Media: Are They Old Enough?
While the internet offers incredible opportunities for children to access information and connect with others, it's important for parents to teach them how to navigate online environments safely. Without proper supervision and understanding of concepts like privacy, children may face negative experiences that can impact their well-being.
Wait Till 13
One common question that arises is when your child should have a social media account. Most social media platforms, including Instagram, Snapchat, TikTok, and Facebook, require users to be at least 13 years old to register. Following these guidelines, we recommend that no primary aged child should have their own social media account. As a school community, we kindly request that you protect your child by allowing them to access social media only under your account and supervision.
After they are 13, take into account your child's:
Maturity

Resilience

Understanding of the impacts of social media.
Saying No
Safeguarding your child's confidence and self-worth during their primary school years is crucial, and social media can have negative consequences on your child's developing identity. We encourage you not to let the online environment distort this important phase of their development. Stay strong and resist the pressure to introduce your child to social media when they are too young.
Together, let's empower our children to explore the digital world safely while preserving their well-being and fostering a positive sense of self. Learn about the latest games, apps and social media use for children in The esafety Guide.
Sports News
Cross Country PSSA
Good luck Indigo Duncun, who has today travelled to Sydney to compete in the PSSA Cross Country Carnival. Indigo will run against the best cross country runners from all NSW primary schools. Being involved in sports at such an elite level is an amazing achievement. All the best Indigo!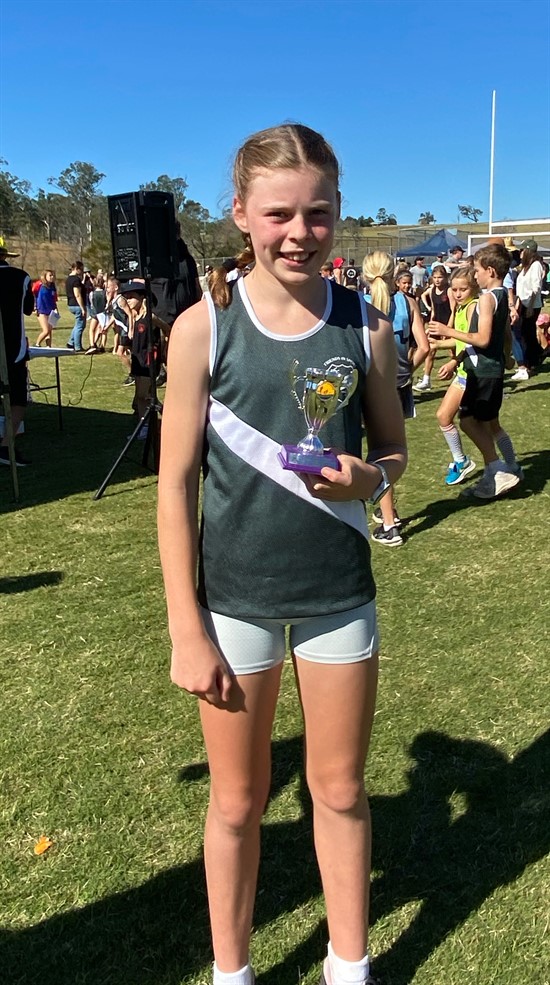 Zone Athletics Carnival
Next Wednesday 26 July, 54 students from St Agnes' will participate in the Zone Athletics Carnival. Students will compete in 100m, 200m, 800m, 1500m, shot put, discus, long jump and relay events. Successful athletes will qualify for the Diocese Athletics Carnival in Coffs Harbour on Tuesday 15 August. A reminder that the bus will depart from the school at 8:15 am for a 9:00 am start at St Joseph's Regional College. Good luck to all our athletes on the day.
St Agnes' Kilometre Club
Next week, we kick off the KM Club at St Agnes. The KM Club is a non-competitive and fun activity for students to participate in before learning begins. The KM Club is open to all students and aims to help students build individual goals, collaborate on a whole school goal and participate in physical activity at their own level.
Students will work towards a school goal to make it more engaging. The scenario is that the St Agnes' students want to take a boat to the Great Barrier Reef. It leaves the Marina in Cairns on Saturday 22 September, and the only way to get there is to cover the 2,230 km on foot. Starting Monday 24 July, they will have nine weeks to cover 2,230 km. Mr Wilson will work with the Year Six Leaders to interactively track the school's progress as we journey up the East of Australia. We will also work with Aunty Sharon to acknowledge Country as we travel North. More information about the KM Club is available on the NSW Government Website.
Family and School Partnerships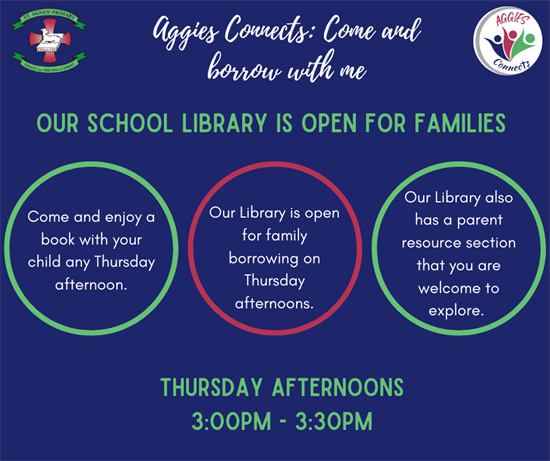 Student Awards
DOJO Awards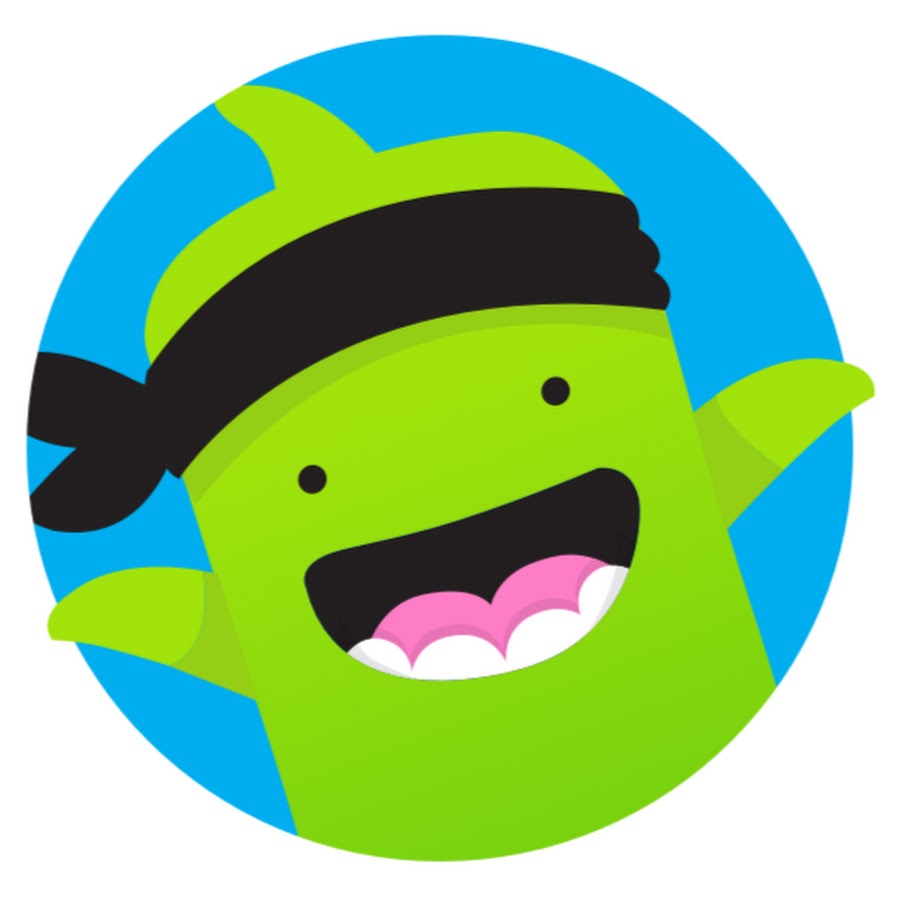 Congratulations to the following students who have reached 300 Dojos:
Mikayla O
Congratulations to the following students who have reached 200 Dojos:
Amirah T, Brodie D, Eliza B, Emily H, Hazel M, Lachlan P, Lily S and Sophia H
Congratulations to the following students who have reached 100 Dojos:
Avinav S, Ethan B, Georgia S, Jarred P and Nate M
Assembly Awards
Alexa M, Ally S, Alraya-Rose S, Anastasia K, Antonia M, Archie M, Ariana F, Bailey A, Benjamin O'B, Brayden W, Cade S, Casey C, Charlee T, Eli B, Emersyn F, Emilia A, Emily T, Evie S, Gabrielle R, Henley C, Henry E, Indiana F, Jarred P, Jay N, Jayden C, Joseph O'B, Lara B, Mahli F, Mia C, Michael T, Mitchell H, Nevaeh T, Noah B, Noah W, Olivia A, Rayan W, Reagan C, Rocco M, Sienna L, Thomas M, Willow H and Zali T
Canteen News
| | |
| --- | --- |
| Monday | Jo Anne Lee and Lynne Rangel |
| Tuesday | Claudia Canivilo |
| Wednesday | Antonia Mullen |
| Thursday | Maryanne Field and Ros Caldwell |
| Friday | Daniel Stewart, Veronica Swadling and Sarah Taylour |
P&F
P&F Meeting
Thank you to those who attended our P&F meeting on Monday night. Please see below the meeting minutes.
We are hosting a Spring Fling at Hello Sailor on Friday 1 September. We hope you can join us - click on this LINK to book your tickets.
This Week At Aggies
This Week's Notes and App Alerts
The following Events where published this week. Please see the Notification section of Compass to access these events (if applicable to your family):
Year 3 - Sacrament of Confirmation - Reflection Day

Year 5 - Camp Note




Year 5 - MacKillop College Performing Arts Spectacular

Year 6 - PG Movie Permission




First Nations Students - Naidoc Week Activities
Parish News
General Information
Term 3 - Drawn to Art Afterschool Art Classes
Mondays - 3:30pm - 5:30pm
Tuesdays - 4:00pm - 6:00pm
Wednesdays - 4:00pm - 6:00pm
Saturdays - 1:30pm - 3:30pm
Drawn to Art Studio Location:4/35 Merrigal Rd, PMQ
Inquiries: info@drawntoart.com.au
Bookings: drawntoart.com.au
Mob: 0438 803 992