Newsletter - Term 2 Week 9
Calendar
Term 2 Week 10
Mon
26 June

Whole School Prayer - Hosted by 6 Faith




Tue
27 June

NRL - Primary School Challenge at Stuart Park, Port Macquarie. Bus departs at 8:30am and returns in time for afternoon buses.

Wed
28 June




Thu
29 June

Aggies Connects - Come Play With Me 0-5Yrs (in the hall) 2:15pm to 3:00pm




Fri
30 June

Last Day of Term 2




Social Circles - 2:15pm to 2:50pm
Mon
17 July

First Day of Term 3

Whole School Prayer - Hosted by Mrs Sprague

Parent Representative Bodies - CSO Guest Speaker 2:15pm - 3:00pm

P&F Monthly Meeting (with Parent Representative Bodies - CSO Guest Speaker) - 5:45pm to 6:45pm

Tue
18 July

Year 3 - Sacrament of Confirmation workshops - 3:30pm to 4:30pm

Thu
20 July

Year 3 - Sacrament of Confirmation workshops - 5:30pm to 6:30pm




Mon
24 July -
Fri 28 July

Parent Teacher Interviews - 7:30am to 5:30pm

Tue
25 July

Year 3 - Sacrament of Confirmation workshops - 3:30pm to 4:30pm

Wed
26 July

Zone Athletics Carnival at St Joseph's Regional College

Year 3 - Sacrament of Confirmation workshops - 3:30pm to 4:30pm









From The Leaders
The 12th Sunday in Ordinary Time
In this Sunday's Gospel, (12th Sunday in Ordinary time) Matthew tells us of Jesus' message to his disciples to fear no one, even if they need to endure great difficulties and hardships. There will be times in our lives where we will be asked to make difficult decisions. We will be asked to make a choice according to what our faith teaches us. These actions require courage to overcome whatever fears, nervousness, worries, or anxieties we might have. That is when Jesus says he is with us. In the Gospel passage, he uses the example of the sparrow: God knows and cares for the sparrows, and they do not have any worries or cares. If the birds aren't worried, all the more reason why we shouldn't be either! Why? Because to God we are worth so much more and he cares for us even more.
P&F - Our Future: A very important decision
Parent representative bodies such as P&Fs and Parent Forums are important ways for schools and families to work together for the good of the whole school community. All schools in the Diocese of Lismore will be required to adopt one of two approved models for parent representation in our schools over the next two years.
Our school has decided to explore which model would suit our school community best and would like to give all parents and carers the opportunity to offer their opinion. A brief description of the two models can be found below in documents from the Catholic Schools Office. On Monday 17 July, we will have a guest presenter from the Catholic Schools Office to present parents with more information about these two models. Sessions will be 2:15pm - 3:00pm and at the P&F meeting on the same day from 5:45pm. We will be asking parents to vote on their preferred option early next term. Stay tuned for some more information over the coming weeks!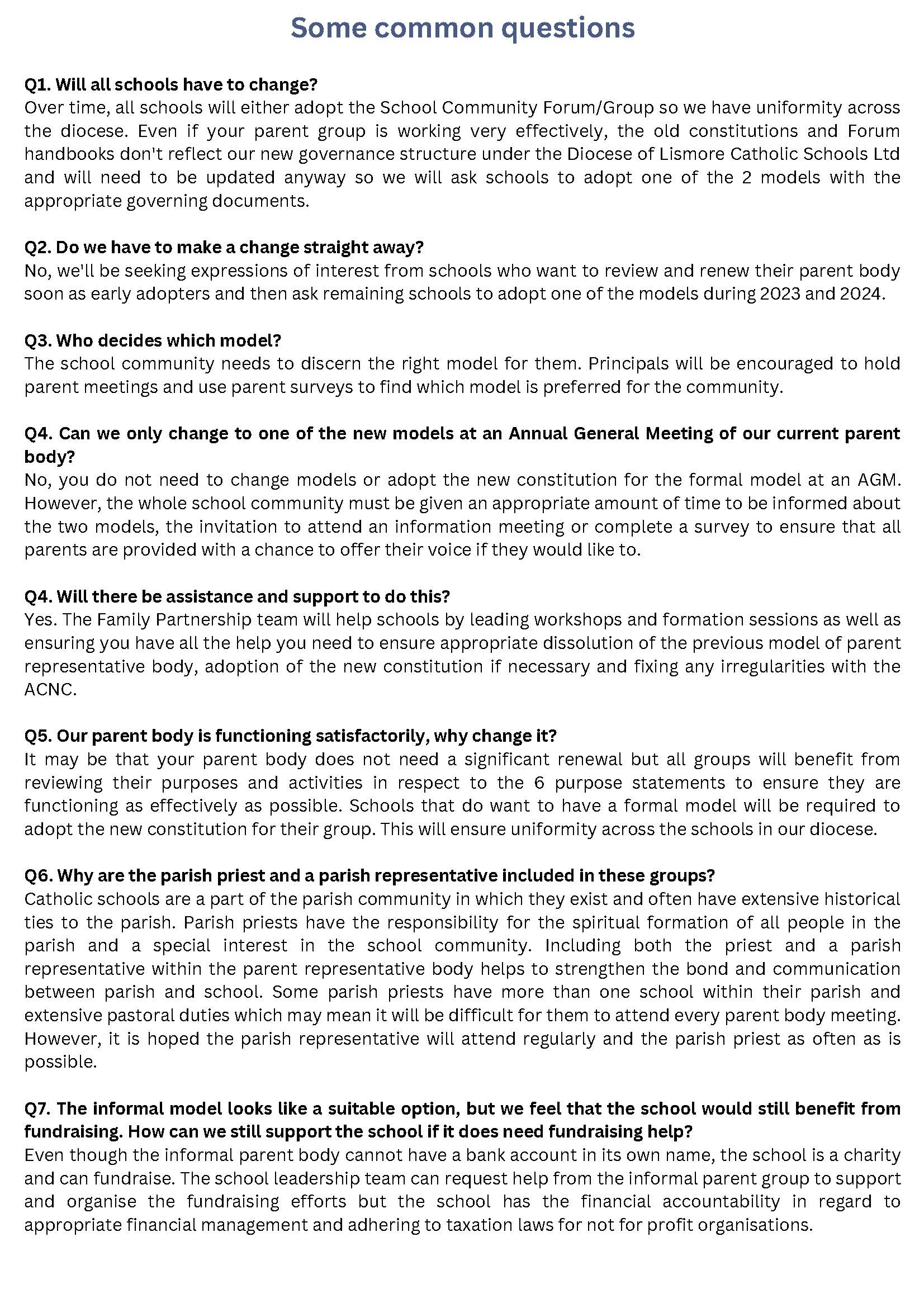 Winter Woolies Appeal
Over the past year we have seen a huge increase in the demand for St Vincent de Paul services. Currently St Agnes' Parish is assisting 60 individuals/families per week and Lake Cathie is also experiencing significant demand. They provide direct material support, as well as, referral to other support agencies in both Port Macquarie and Lake Cathie. This organisation is made up entirely of volunteers who assist the homeless, victims of domestic violence, as well as those seeking the necessities of life — food, clothing and medication, or a friendly face with someone who will listen.
We appreciate families who have donated warm blankets and clothing items for the needy. Items can still be donated next week and these will be delivered to St Vincent de Paul next Friday.
We raised over $500 from the gold coin donations for wearing warm winter woolies. This will purchase food vouchers for people in the Port Macquarie community.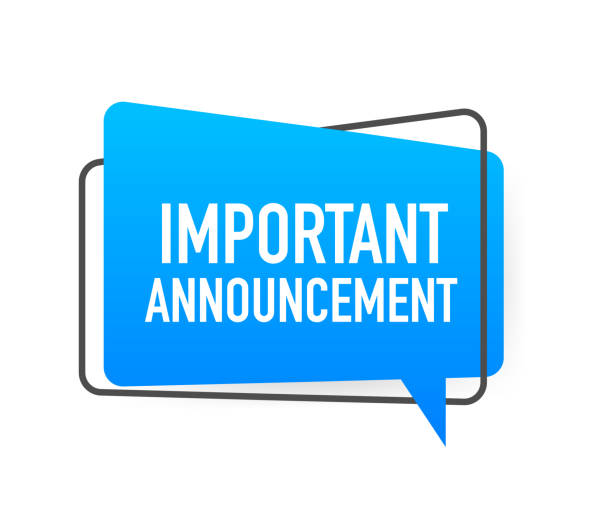 Compass Update:

As the move to our new Communication Platform and Parent App Compass, draws near, we wish to communicate one of the key features of the application. The Event module in Compass is quite powerful and a seamless way for you to give consent and pay for Events. An Event is classed as an excursion, camp, sporting activity and anything where your child leaves the grounds of the school. As a parent you have the ability to see any medical information regarding your child every time an event is published. You will also be asked to review any 'action' plan that has been provided by you to us for a medical condition that your child may have.

The 'Action Plan' is the Plan of Action that will be followed by those attending the event if your child has a medical episode relating to their medical condition. That is - an Asthma Plan, Anaphylaxis Plan or other medical emergency plan.
As a parent you can provide updated Medical Conditions within the Event Module which will trigger an email to be sent to the school to review and update the medical conditions. If the Action Plan that is attached to the event is not the current and most recent Action Plan for your child, please email the school the most recent and updated plan so that your child's medical information is correct.
Throughout the onboarding process we will be sharing a list of documents (Pdf's) 'How to's....' on how to get the most out of your Compass Application. Your unique username and password will be emailed to your registered email address with the school on Monday 10 July. A help form will be available for you to request assistance.
Reporting Communication
K-2 families have received video communication through Seesaw that highlights the changes to the K-2 reports. There is some wonderful information in the videos that we encourage you to read. Next week, further information will be posted on how to read the reports. We hope that you find this information helpful.
All student reports will be available as soon as you log into our new Compass system, and Parent/Teacher Interviews will be conducted in Week 2 of Term 3.
Creative Arts Nest Finalist Awards Night!
The A4 Art Prize Awards Night was a huge success. St Agnes' was represented by so many students and it was wonderful to see the sense of pride in all of the students faces as they went up on stage to collect their finalist certificates. We are so proud of every single student who entered the competition.
A huge congratulations to Eli Brown, Stella Clark and Mrs Allwood for their highly commended placing! That is a wonderful achievement.
Take a look at the statistics below, the A4 Art Prize has certainly connected to a wide audience!
Helpers Needed!
Do you have time to pop in for an hour or two next week to help with some laminating and cutting of resources? If so, please email Kate de Bressac at kate.debressac@lism.catholic.edu.au with your availability. We would really appreciate your help and many hands make light work.
Year Six enjoyed some guidance in leadership skills provided by students from Newman Senior Technical College. The students were involved in games, discussions and activities that continued to build on their leadership skills. We look forward to further chances to meet in the future. Thank you to Nicole Prior and Thomas McGhee who organised the event.
Term 3 Faith Celebrations
A Message from Pope Francis for our First Communion Candidates
Making your First Communion shows that you want to be closer to Jesus every day, to grow in friendship with him and to lead other people to share in the joy he wants us to feel. The Lord needs you, because he wants to work the miracle of bringing his joy to many of your friends and family members. I ask you always to pray with the same enthusiasm and joy that you feel today. Remember that this is the sacrament of your first Communion, not your last! Remember too, that Jesus is always there, waiting for you. I hope that today will be the beginning of many Communions, so that your hearts may always, like today, be festive, full of joy and, above all else, gratitude. ' Pope Francis

Grandparent Celebration
Our Grandparents Liturgy will be held at school on Wednesday 6 September, the day before our Creative Arts Performance. We were hoping that grandparents who travel for this celebration would also be able to join us for the CAPA night. Previously this has been an Infants' Celebration. This year we warmly welcome all grandparents and grandparent figures for students in Kinder to Year Six to join us for a Liturgy and stay for a picnic lunch afterwards.
All children are welcome to join us at St Agnes' Church for this special ministry at the 9.00am Mass on Sunday 25 June.
Holiday Haircuts
This is a reminder in the lead up to the holidays that extreme hairstyles of mullets, rat tails and cut out designs (or any of the suggestions above) are not acceptable during the school term. Students are free to experiment in the holidays, but are required to follow the school policy guidelines on their return to school.
This Week We Thank God For:
Watching Year Six and Year Twelve students from Newman Senior Technical College relate so well.

Being a part of the Kindergarten Liturgy of the Word on Thursday

The generosity of families supporting Winter Woolies for those in need.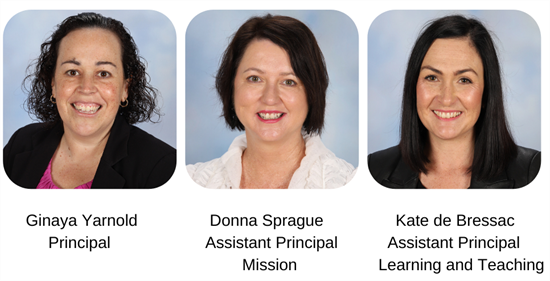 Sports News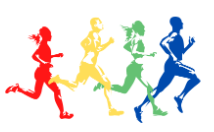 Athletics Age Champions
Congratulations to the following runner-up age champions and age champions.
8 years
Boys Age Champion Runner-up: Angus Sales
Boys Age Champion: Rocky Walker
Girls Age Champion Runner-up: Pippa Taylor
Girls Age Champion: Isolde O'Brien
9 years
Boys Age Champion Runner-up: Kruze Daley
Boys Age Champion: Hunter Favaloro
Girls Age Champion Runner-up: Mia Brazel
Girls Age Champion: Madelyn Field
10 years
Boys Age Champion Runner-up: Enzo Waind
Boys Age Champion: Oliver Wainwright
Girls Age Champion Runner-up: Ava Schnieder
Girls Age Champion: Mila Stoykovich
11 years
Boys Age Champion Runner-up: Harley Cadden
Boys Age Champion: Oliver Walters
Girls Age Champion Runner-up: Emily Lonergan
Girls Age Champion: Jagga Smith
12 years
Boys Age Champion Runner-up: Max Schneider
Boys Age Champion: Hudson Sprague
Boys Age Champion: Oliver Brazel
Girls Age Champion Runner-up: Poppi-May McGarrity
Girls Age Champion: Indigo Duncan
Independent & Catholic Primary Schools Rugby League Challenge
Next Tuesday, Mr Evans will take a team of Year Five and Six students to Stuarts Park to compete at the Independent & Catholic Primary Schools Rugby League Challenge. The team will participate in a gala day style competition before moving into finals. The day is a full contact competition; all players are reminded that a mouth guard is required. The bus will depart from Aggies at 8:30am and return in time for afternoon dismissal.
Student Awards
Assembly Awards
K Faith - Daisy-Rae and Benjamin
K Hope - Riley and Hunter
K Love - Lucy and Hadlin
1 Faith - Eva and Emilia
1 Hope - Ethan and Charlie
1 Love - Olive and William
2 Faith - Mea and Aubree
2 Hope - Sharni and Felix
2 Love - Benjamin and Ava
3 Faith - Liam and Mikayla
3 Hope - Harrison and Aria
3 Love - Florence and Norah
4 Faith - Jack and Alba
4 Hope - Ruby and Layla
4 Love - Makayla and Braxton
5 Faith - Jessyka and Cooper
5 Hope - Flynn and Ethan
5 Love - Arrabella and Alexis
6 Faith - Christopher and Nusaibah
6 Hope - Lotte and Max
6 Love - Ivy and Clementine
Canteen News
Monday

Joanne Lee and Lynne Rangel



Tuesday

Claudia Canivilo



Wednesday

Antonia Mullen

Thursday

Maryanne Field, Anna Lloyd and Ros Caldwell



Friday

Leigh Smith and HELP PLEASE
P&F
Thank you to all who were able to attended our P&F meeting on Monday night. The meeting minutes are below.
Our next meeting is on Monday 17 July.
This Week At Aggies
This Week's Notes and App Alerts
Parish News
General Information
Term 3 - Drawn to Art Afterschool Art Classes
Mondays - 3:30pm - 5:30pm
Tuesdays - 4:00pm - 6:00pm
Wednesdays - 4:00pm - 6:00pm
Saturdays - 1:30pm - 3:30pm
Drawn to Art Studio Location:4/35 Merrigal Rd, PMQ
Inquiries: info@drawntoart.com.au
Bookings: drawntoart.com.au
Mob: 0438 803 992