Newsletter - Term 1 Week 7
Calendar
What's Happening Next Week
Mon
20 March

Whole School Prayer - 9:00am to 9:30am


P&F Monthly Meeting - 5:45pm to 6:45pm

Tue
21 March

Harmony Day

NAPLAN Assessment - 9:00 to 10:30am

St Joseph's Regional and MacKillop visit Year 6 - 10:00am to 11:00am


Kindergarten 2024 Information Session - 5:30pm to 6:30pm




Wed
22 March
Thu
23 March

Harmony Week Celebrations - All welcome from 12:00pm to view our Museum Display


Year 1 Liturgy at the Chapel - 10:15am to 11:00am

Fri
24 March

Year 2 Excursion to the Glasshouse - 9:00am to 11:00am
Tue
28 March

Sacrament of Penance at St Agnes Church - 6:00pm to 7:00pm

Wed
29 March

Years 3 and 4 Excursion - Lent The Musical at St Joseph's Regional College

Sacrament of Penance at St Agnes Church

- 6:00pm to 7:00pm

Thu
30 March

Kindergarten Liturgy at the Chapel - 10:15am to 11:00am



Sacrament of Penance at St Agnes Church

- 6:00pm to 7:00pm

P&F Colour Run - 5:00pm to 7:00pm

Tue
4 April

Wed
5 April

Sushi Day - 11:00am to 11:35am

Thu
6 April

Last Day of Term 1


Easter Hat Parade - 9:00am

Craft for Service Market Stall - Lunch 1 and Lunch 2

Easter Egg Raffle Draw - 12:00pm

Mon
24 April

Pupil Free Day/ Professional Learning Day

Tue
25 April
Wed
26 April
From The Leaders
4th Sunday of Lent
This Sunday's Gospel tells of Jesus healing the blind man. He had been blind since birth and now suddenly, everything was different. The only problem was that the other people in his community had a hard time accepting this change. The rule was that you could not work on the Sabbath, and since Jesus had cured the man on the Sabbath, the religious leaders believed that Jesus was breaking the rule. Also, at this time it was believed that people who were born with physical impairments like blindness were being punished by God for their parents' sins. So people who had these impairments generally accepted them as the will of God.
Penance workshops
This week we completed the Penance Workshops for 2023. We enjoyed working with families from across the parish on Tuesday evening. Father Paul explained the relevance of the Sacrament for our lives and candidates shared in activities with their parents to gain a greater understanding of the sacrament. Thank you to our Year 4 teaching staff for making themselves available to support this important family learning.

Yesterday our students in Year 4 participated in a Reflection Day at the Youth Hub. During this time the whole grade participated in further learning about the Sacrament of Penance, whilst our candidates gained a deeper understanding of the process and were able to practise for their ceremony.
The lesson I got out of going to the Youth Hub was what forgiveness is, how it happens, why it is important and how it has an impact on our lives. Also the teachers explained really well what we have to do when we go to confession.
By Raquel Rangel
Whilst Harmony Day is on Tuesday 21 March, St Agnes' students will be involved in this celebration throughout Week 8.
All families are welcome to attend our Harmony Day museum on Thursday afternoon from 12:00pm. During this time our learning from some of the amazing countries our students come from will be celebrated and shared in the school hall. Our activities will also be shared via our social media platforms for those families who cannot join us.
This year we will be celebrating Harmony Week by learning about countries our children have cultural heritage from. Students are encouraged to dress up in the colours of their countries' National Flag. We have an extensive list showcasing the cultural backgrounds that form part of the St Agnes' Primary School community.
These are the counties allocated to classes to recognise the vast array of cultures we represent:
K Faith - Canada, K Hope - Philippines and K Love - Australia
1 Faith - Holland, 1 Hope - France and 1 Love - Japan
2 Faith - America, 2 Hope - Nepal and 2 Love - Thailand
3 Faith - Hungary, 3 Hope - Sri Lanka and 3 Love - Turkey and South Africa
4 Faith - United Kingdom, 4 Hope - Sweden and 4 Love - Kenya
5 Faith - India, 5 Hope - New Zealand and 5 Love - Lebanon
6 Faith - Malaysia, 6 Hope - Bangladesh and 6 Love - China
A4 ART PRIZE: ONLY ONE WEEK TO GO!

We are sure that there are many students working hard to create their entries to the A4 Art Prize for 2023. There are some amazing prizes to be won and we encourage everyone to have a go! We loved having the Creative Arts Nest Team visit to host our POP UP Art session yesterday
E-SPORTS
We are excited to be able to offer our students the opportunity to participate in the Lismore Diocese E-Sports Competition as an extra curricular opportunity. This Year's competition will include Mario Kart, Just Dance and Rocket League.
School sponsored e-sports leagues foster positive interactions and friendships among students, teach teamwork and communication skills, provide opportunities to build leadership skills, and create a sense of belonging for students.

Students from Stage 3 will receive a survey from our Leader of Digital Innovation, Mrs Eloise Wilson next week in order to register their interest for the time trials for Mario Kart. If you have any concerns about your child being offered this experience, please contact Kate de Bressac or Eloise Wilson. Although the diocesan competition is for senior students only, we will be offering the opportunity across the school as a school based extra curricular activity in the coming weeks and terms.
Carpark

Thank you to those families who abide by the guidelines they sign up for when they register for car park pick up. These being, that they will not park their cars across the pedestrian crossing at the front of the entrance and will drive on around the block when requested. This ensures the smooth flow of traffic and that our neighbours driveways are free for them to access. As stated in the contract, these actions are a condition of using this privilege.
Chick-itas
So many students and families have generously supported the Chick-itas initiative to raise funds for our Project Compassion focus this year. We have now raised $1,144 to buy 163 chickens for a community in Zimbabwe through Caritas. All of our fundraising this term will support this social justice cause.
Easter Hat Parade
We hope our students are excited about the idea of creating an Easter Hat for our last day of school this term. We look forward to welcoming families to watch this spectacular parade at 9:00am under the shelter on Thursday 6 April.
Craft for Service
We are so grateful to Aunty Michelle and her clever band of fellow crafty staff who assist our wonderful student volunteers to create goodies to sell. These items will be for sale at our market day on the last day of term. This is the same day as our Easter Raffle and Easter Hat Parade.
Easter Raffle
Thanks to our families who have donated Easter goodies for the annual Easter Egg Raffle. This has traditionally been a highlight for staff and students. This year we will be hosting this event at 12:00pm on Holy Thursday, the last day of term.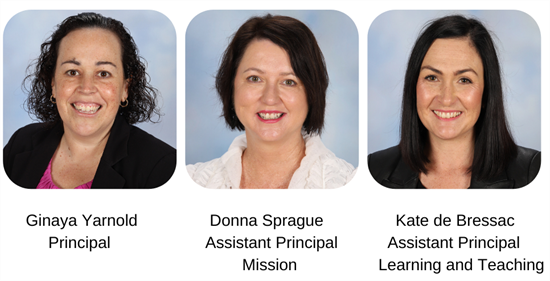 PBS
This week we have continued with our focus on being responsible and keeping our hands and feet to ourselves. Congratulations to our Kennedy house students who are in the lead receiving the most dojos for following our whole school expectations. They are leading in the challenge for who will be the winners of the house cup treat day for this term.

Family sharing story links:
1. Hands Are Not For Hitting by Martine Agassi (Infants)
2. Why Do We Lose Control of our Emotions? (Primary)

Student Awards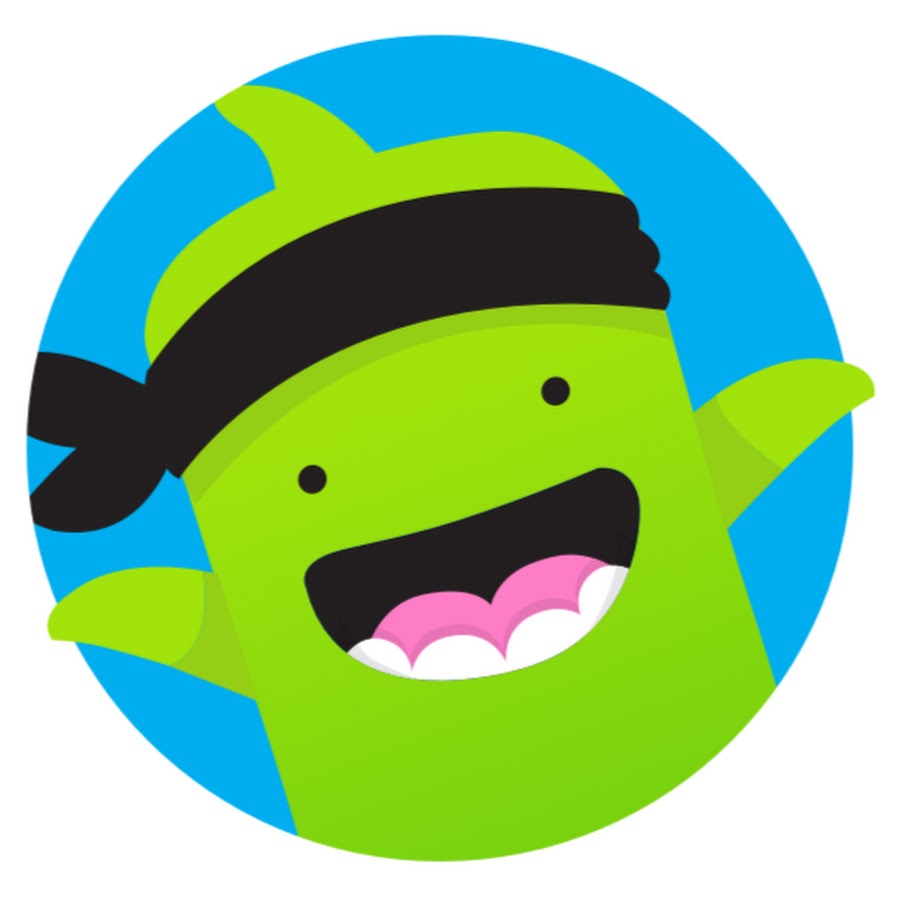 Congratulations to the following students who have reached 100 Dojos:
1 Faith - Billie and Slayter
2 Faith - Amelia, Charlotte, Flynn, Maddilyn and Scarlett
2 Hope - Arie, Jaxson, Lachlan and Rocky
2 Love - Annalisa, Asha, John and Nicholas
3 Faith - Joel and Jude
3 Love - Mia
4 Love - Charlotte, Emily, Makayla and Tabitha
5 Love - Ezra
K Faith - Bonnie and Liam
K Hope - Koda and Oscar
K Love - Poppy and Louis
1 Faith - Roman and Sadie
1 Hope - Thomas and Julian
2 Faith - Flynn and Scarlett
2 Hope - Ella and Amber
2 Love - Aisha and Arham
3 Faith - Jude and Phebe
3 Hope - Jannah and Flynn
4 Faith - Jake and Elise
4 Love - Jayde and Owen
5 Faith - Josh and Poppy
5 Hope - Savannah and Sophie
5 Love - Jagga and Max
6 Faith - Griffin and Ruby
6 Hope - Beau and Leo
6 Love - Oliver and Maja
Sports News
Last week, thirteen Aggies students participated in Diocese Winter Sports Trials at Grafton. All of our students braved the rain and gave it their best. Around the grounds, many of our students progressed to the possible and probable selections. From the day we had five students progress to Polding Trials. Congratulations Chloe Chilko and Xavier Dare (hockey), Macey Singh (netball), Max Schneider and Kobe Marsh (league). Flynn Wehlow and Henry Fryer were also successful in gaining Polding selection for AFL. What an outstanding achievement that seven students reach such a high level of selection.
Cross Country

Tuesday, 4 April (week 10) is locked in as the date for the school cross country trials. The day consists of both competitive and non-competitive events. Students can either run for fun with their friends or compete for selection for the Hastings Zone Carnival to be held on 10 May at Kempsey. A great way for athletes to warm up for the trials may be the P&F Colour Run on Thursday 30 March, between 5:00pm and 7:00pm.
School Sports Grant

Thank you to all the staff and families who provided feedback for the Sporting School grant. From the feedback, Gymnastics was the sport that received the most support, with Athletics second. This feedback helped with the selection of sports for the grant.
This Week's Notes and App Alerts
Good Morning
Wednesday 5 April we will be having a sushi day in the canteen. Please note we will not be able to take any late orders as these are being made offsite by Chez Sushi. The cut off for orders is 12:00pm Friday 31 March. Normal lunch orders will still be available on this day.
Canteen News
| | |
| --- | --- |
| Monday | Jo McLaren |
| Tuesday | Natalie Favaloro |
| Wednesday | Antonia Mullen |
| Thursday | Maryanne Field and Ros Caldwell |
| Friday | Daniel Stewart, Veronica Swadling, Nicole Carter and Sarah Taylor |
P&F
P&F AGM and March Meeting: Mon 20 March - 5.45pm
All members of the school community are invited to attend the P&F 2023 AGM and March meeting on Monday evening. If you are interested in holding an executive position in 2023, we welcome your nomination and would love to hear from you prior via pandfstagnes@gmail.com.
Please do not fear that you will be roped in on the night if you are interested in attending, but not interested in a position. The meeting will run for 1 hour in the school staff room (access is via the staff car park).
The P&F Family Engagement Evening including THE COLOUR RUN is not far away! The event will be discussed on Monday night. If you are interested in being involved, please get in touch!
Please follow the links to view the minutes of past meetings and agendas for the March meeting and 2023 AGM.

Parish News
Enrol In Excellence
Give your child the best start to their learning life with St Agnes' Education. Register for a Kindergarten 2024 Enrolment Information Session to find out all you need to know about sending your child to a St Agnes' Education Primary School in 2024.
At our schools, your child will:
• learn from professional, highly skilled and dedicated teachers that know how to help them reach their full potential,
• be embraced by a community that cares for them and teaches them to care for others and their world,
• grow spiritually, socially, physically, morally and intellectually.
Please check your zoning before registering to ensure you attend the information session aligned to the school zoned for where you live. You can view the zoning map on our website www.enrolinexcellence.org.au
Information session details:
St Agnes' Primary School – Tuesday 21 March 2023 – 5:30pm
St Joseph's Primary School – Thursday 23 March 2023 – 5:30pm
St Peter's Primary School – Monday 20 March 2023 – 5:30pm
For questions regarding school zoning, please contact the Education Enrolment Team on (02) 6588 7444.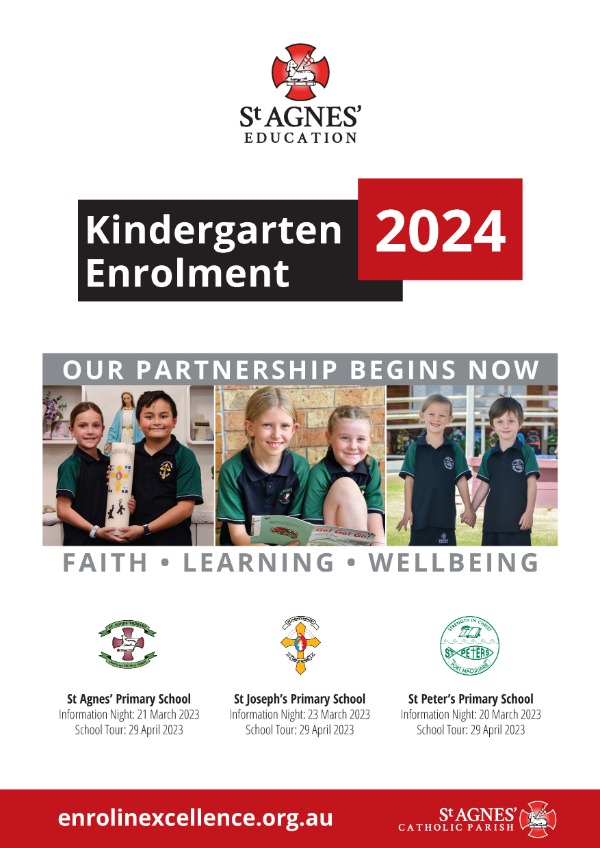 This Week At Aggies
General Information
LAST WEEKEND BEFORE A4ART 2023 ENTRIES CLOSE!
Want to be in the running for over $5000 in cash and prizes?
Did you know A4Art 2023, features more cash, more prizes and more categories this year, which means more chances to win!
So what do you need to do? Create an artwork, using ONE A4 size piece of paper in any way you choose. Draw, paint, scribble, fold, sculpt, cut, mould, shred, or even write on your paper – use it in any way you, the artist envisions!
All Artworks are to be handed in before Friday 24 March 3:00pm. Late entries can not be accepted. More information can be found at artsnest.com.au including terms and conditions - lets get creative!

Orders for Bookclub Issue 2 will close on Wednesday 22 March. Please visit scholastic.com.au to place your order.
Drawn to Art Afterschool Art Classes, Term 2 - 26 April through till 21 June
Visual Arts Room - Wednesdays 3:00pm - 4.45pm
Term fee: $310.00 - Creative Kids Vouchers Accepted.
Students join a nine week art program where they are given complete creative freedom. They have the opportunity to work on varied subject matter while guided lessons provide the students experiences, experimenting with different art mediums through out the term. We will work with Sculpture, Painting, Printmaking, Drawing and mixed media collage. Lots of fun to be had, amazing artworks to be created and all skill levels welcome.