Newsletter - Term 1 Week 5
What's Happening Next Week
Term 1 Week 6
Dates For The Diary
From The Leaders
This Sunday is the Second Sunday of Lent. In the Gospel, Matthew tells us about the Transfiguration of Jesus. Transfiguration means to change something radically. Jesus took three of his disciples to the top of a mountain, the same three he took to the garden to pray after the last supper. The Apostles were used to seeing the human Jesus as a person like them. Then, they were given the great honour of seeing the divine Jesus and hearing God say that he was the "Beloved Son."
Communication - Newsletter and Daily Alerts
Have you been keeping up with our newsletter changes? Following the feedback we received at the end of last year, we have been making some additional changes. This is what has happened so far:
The first four weeks:
No new information in the daily alerts.




These moved to collage photos only.




Moved 'What's happening next week' to the top of the newsletter.




Introduced 'Notes this week' section




New format for text information to make it more user friendly and easier to read.
Week 5:
New corporate platform that includes no advertisements in the middle of the newsletter.




App alerts were added to the new 'Notes this week' section




Renamed some sections for easier access




More photo galleries in the internal component of the newsletter
Sporting Schools Grant - Parent Voice
As outlined, we are in the process of completing an application for the 2023 Sporting Schools grants. Through the grants, the school can access coached sport opportunities for our students, at no cost to families. We are seeking parent voice around sport options they feel would be most engaging or introduce children to new skills or games.
Click on this link which will take you to a Google Form that lists all of the available sporting options. Students will already be accessing rugby league coaching this year, and recently we have had basketball, golf, and cricket coaching in the school. Please submit your top three preferences by 3:00pm Tuesday 7 March.
Aggies Connects: Come and Read with me began this week!
The first two of our reading sessions for Kindergarten to Year Two began in the library this week. We were excited to see so many parents and their children join us. Our clever students were showing their parents how they are learning in the classroom and enjoying some quality reading time with their families. We have many more sessions to come and would love to see you there.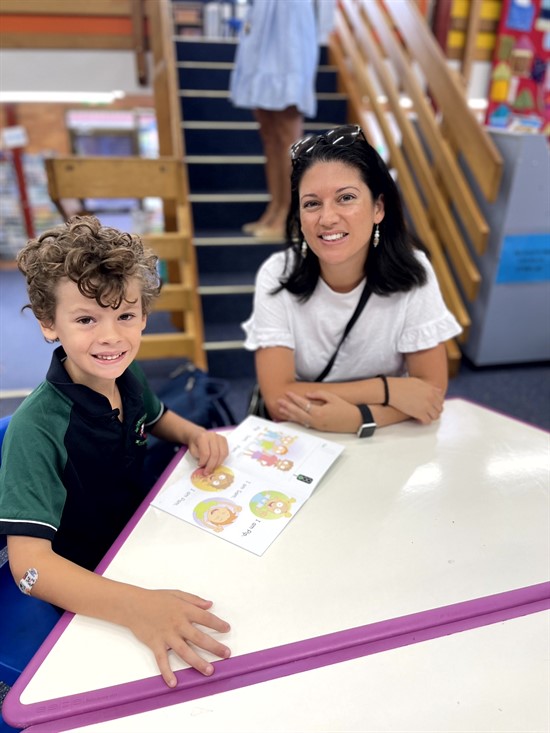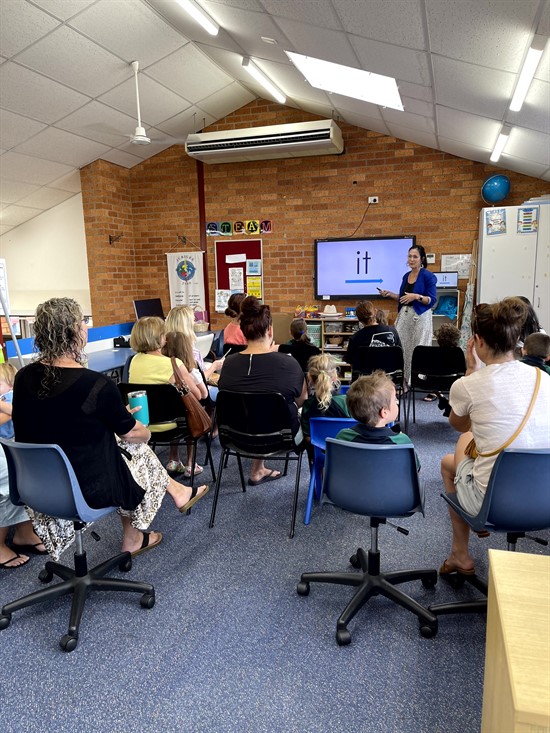 NAPLAN
We remind all parents that NAPLAN is fast approaching in Week 7. All students in Years Three and Five will sit the NAPLAN Assessment on Wednesday 15 March, Thursday 16 March, Friday 17 March and Monday 20 March. All students require headphones, therefore we ask that if you haven't attended to this yet, could you please send some in for your child next week. At school we speak very positively about NAPLAN and ask that you do at home also. The best way to prepare the children is to have a positive mindset, good sleep and a healthy breakfast. Please contact Kate de Bressac if you have any questions regarding NAPLAN.
Parent Survey
Thank you to all of the parents who were able to fill out the survey regarding parent education during family sharing time. If you were unable to make it in for the sessions but would like to give feedback on how you would best like to receive learning and teaching updates, please click HERE to complete one question on the Google Form.
Reconciliation
This term, students in Year Four and above who are Catholic will be making the Sacrament of Reconciliation. This sacrament is a ritual of healing and forgiveness where we have the opportunity to acknowledge our poor choices and wrong doings, asking for God's forgiveness. For the Catholic community, the Sacrament of Reconciliation provides us with many opportunities to restore relationships and the original state of blessing created by God.
Yesterday our Year Five students had the opportunity to participate in this sacrament from Fathers Paul and Prodencio. Towards the end of Term One our Year Six students will also be provided with this experience.
Incitare by Year 6
On Tuesday, sixteen Year Six students participated in a Religion workshop called Incitare. At Incitare we met other Year Six students from across the parish, who we will be going to high school with. The MacKillop Ministry Team led us in games and activities where we learnt about our faith and how to work as a team.

We were divided into small groups with different schools, in which we got to learn more about each other. Our Ministry Leader answered our questions about high school and told us a bit about what lessons we would take.
Later on we were given journals to fill in. In these journals we wrote times where we had to show courage in our lives. We also had to perform a skit about a bad situation then someone would run in and say "Christ like zone." Then we would re-enact the situation but in a way that showed what Jesus would have done.
Before finishing up, we had a prayer service with groups; acting, poster making, reading prayers of the faithful, decorating the prayer space and a passage from the Bible was read.
We had an amazing time at Incitare.

Chick-itas
On Monday morning, Terry Timbs from the St Agnes' Parish spoke to our students about Project Compassion and the importance of giving to others during our time of Prayer, Fasting and Giving through Lent. 3 Love provided each class with Project Compassion boxes to make donations through the Lenten period. Each grade is going to raise money to buy chickens for a local community in Zimbabwe. It costs $7 to buy a chicken for this struggling community. The SRC have decided to call the Caritas fundraising Chick-itas. (Chick for chicken and itas for Caritas). Each time a grade raises enough to buy a chicken, this will be displayed in their classroom window and in the front office.
Carpark
Could all families using the car park pick up service please be mindful of not parking on the zebra crossing to allow safe pathways for students and families. We also ask for traffic to drive on when asked, to prevent cars from queuing in Boronia Street, slowing buses from access to student pick up and local residents from accessing their driveways.Thank you for your assistance in this area.
PBS
Positive Behaviour Support (PBS) is an evidence-based framework that brings together the whole-school community to contribute to developing a positive, safe and supportive learning culture. The framework assists schools to improve social, emotional, behavioural and academic outcomes for children and young people.
Through our positive behaviour focus, students who require learning in this area will have coaching sessions during lunch breaks, we call this 'Behaviour Support'. If your child is involved in a behaviour incident at school you will receive a short text message to let you know they have been participating in learning. Further information will be shared after the child attends behaviour support and a goal set between the staff member and child. After their reflection, goals will be set between the teacher and student. These will be recorded and sent home for discussion. If a student attends three Behaviour Support sessions, the class teacher will make contact with families. We appreciate the partnership with our families, working together to provide a positive, safe and supportive learning culture.
Congratulations to Jack, Maddie and Harry (younger brother) Elliott who were recently baptised into the Catholic Church. We are pleased you had a lovely celebration.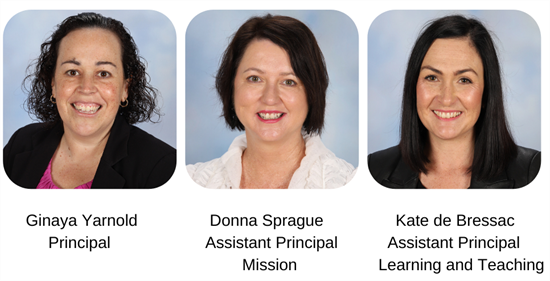 Pastoral care
Following the storm in Port Macquarie earlier this term, we have observed an increase in children who feel worried about the weather. The attached resource gives practical suggestions for managing worry and fear about weather events. If you feel your child requires further support, please communicate with your child's Classroom Teacher.
Sports News
AFL Polding Trials
The Diocesan Primary Australian Football (AFL) Selection trials were held in Grafton last Friday. We have heard that the skill levels were very high, which made the selection process challenging. Congratulations to Henry Fryer and Flynn Wehlow who were successful and will now attend the Polding AFL selections in Bateau Bay.
Zone Swimming Carnival
Last Friday we acknowledged the amazing efforts of the students who represented St Agnes' at the Zone Swimming Carnival last week.
Today we had a team of 15 travel to Kempsey for the Diocesan Swimming Carnival. We cannot wait to hear how you all went. Good Luck!
Student Awards
This Week's Notes and App Alerts
Good afternoon Parents and Carers
As you are aware NAPLAN is coming up soon for our students in Years Three and Five. NAPLAN assessments begin on 15 March and run through until 27 March. We ask you to please ensure that your child has a pair of working headphones at school by Monday 13 March. If you are unable to provide headphones, please contact your child's teacher so that we can make arrangements.
If you have any questions or concerns around your child participating in NAPLAN, please contact your classroom teacher or Mrs Kate de Bressac - Assistant Principal (Learning and Teaching)
Kind regards
Kate de Bressac
Assistant Principal Learning and Teaching
Canteen News
Parish News
Enrol In Excellence
Give your child the best start to their learning life with St Agnes' Education. Register for a Kindergarten 2024 Enrolment Information Session to find out all you need to know about sending your child to a St Agnes' Education Primary School in 2024.
At our schools, your child will:
• learn from professional, highly skilled and dedicated teachers that know how to help them reach their full potential,
• be embraced by a community that cares for them and teaches them to care for others and their world,
• grow spiritually, socially, physically, morally and intellectually.
Please check your zoning before registering to ensure you attend the information session aligned to the school zoned for where you live. You can view the zoning map on our website www.enrolinexcellence.org.au
Information session details:
St Agnes' Primary School – Tuesday 21 March 2023 – 5:30pm
St Joseph's Primary School – Thursday 23 March 2023 – 5:30pm
St Peter's Primary School – Monday 20 March 2023 – 5:30pm
For questions regarding school zoning, please contact the Education Enrolment Team on (02) 6588 7444.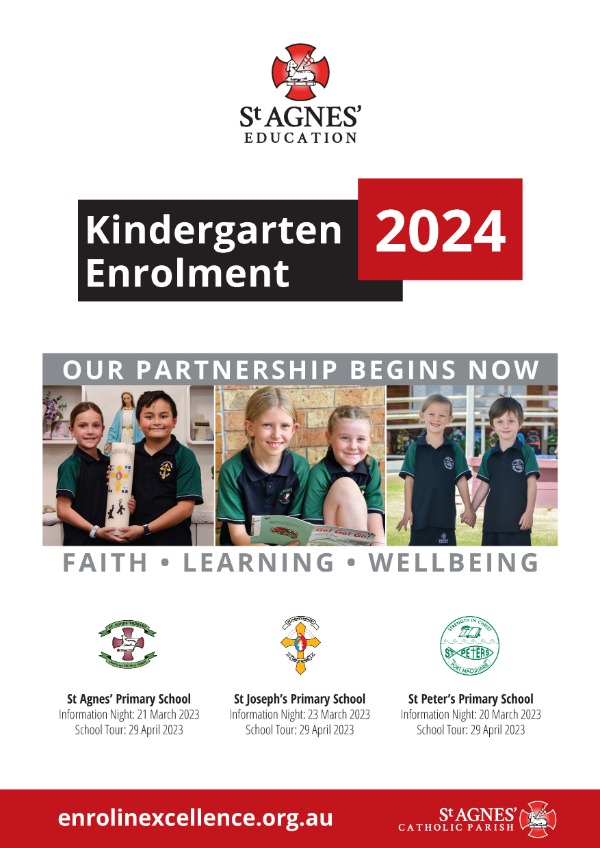 P&F
This Week At Aggies
General Information
The NSW Council of Catholic School Parents is facilitating a free webinar for parents in Catholic schools with Justin Coulson to support parents and carers to understand anxiety and resilience in children.